Justin Timberlake brings 'the woods' to Chicago
Hang on for a minute...we're trying to find some more stories you might like.
It's no secret that superstar Justin Timberlake enjoys performing. Last Wednesday, I attended the second of two nights of his "Man of the Woods Tour" at United Center and the entire performance was very well choreographed.
Overall, I had high expectations for this show and they were exceeded. The 23 song setlist was designed to make a completely seamless transition from one song to another regardless of the song's mood or tempo, which is something most bands or artists do not tend to do.
The stage setup was very unique. The main stage where his fifteen-piece backup band, the Tennessee Kids were situated was located at the arena's west end. However, it was connected by a full catwalk to a smaller stage on the east side of the arena's floor.
Timberlake performed "Filthy" to kick off the show, his lead single off his latest album, "Man of the Woods", which served as a powerhouse opener. The lighting effects used during the song were very reminiscent to those of his performance of the song at the Super Bowl 52 Halftime Show in February. The opening portion also consisted of "Midnight Summer Jam", which segued into timeless hits "LoveStoned" and "SexyBack."
After a short video interlude, Timberlake started his next set by performing the title track to "Man of the Woods", before running through a majority of his older classics including "My Love" and "Cry Me A River", which created a virtual rainshower using LED lighting. He ended the second set by performing "Mirrors", one of my personal favorites and arguably his biggest hit of 2013's "The 20/20 Experience" which featured a heavy brass accompaniment from the Tennessee Kids and a full sing-a-long during the chorus.
The third set was more intimate and emphasized one of the major themes of "Man of the Woods": embracing nature and the outdoors. Performing acoustically with his backup band and singers around a literal campfire and replica trees on the east stage, Timberlake performed some of his more slower yet powerful material such as "Until the End of Time" and ended the portion with a medley of "What Goes Around…Comes Around" and "Say Something". In his final set, Timberlake kicked the arena back into high octane with hits such as "Rock Your Body" and "Like I Love You" prior to his 2016 smash hit, "Can't Stop The Feeling", the show's finale which easily got everyone out of their seats.
With amazing aesthetics and sound, it was certainly a challenge to pinpoint one area of improvement. The show's final set did feel kind of rushed in comparison to his other sets and some of his final songs seemed to be somewhat cut short. However, this did not distract from the show as a whole.
Regardless of whether you're a fan of Timberlake or not, he has definitely remained relevant since launching his solo career and each of his albums have such a distinctively different sound. "Man of the Woods" has gained notable public criticism, yet it demonstrates his willingness to explore genres such as country and blues which represent his original roots in Memphis.
From Michael Jackson to Madonna to David Bowie, only a handful of performers throughout pop culture have been considered "re-inventors" of their own music. While it may seem difficult to compare Timberlake to these legends at this point in his career, he is definitely working his way up to this status. It'll be interesting to see what material he produces next and how comparable it'll be to all of his previous work.
Timberlake will return to the United Center on Friday, October 5 for a third stop on the tour and tickets are still available.
About the Contributor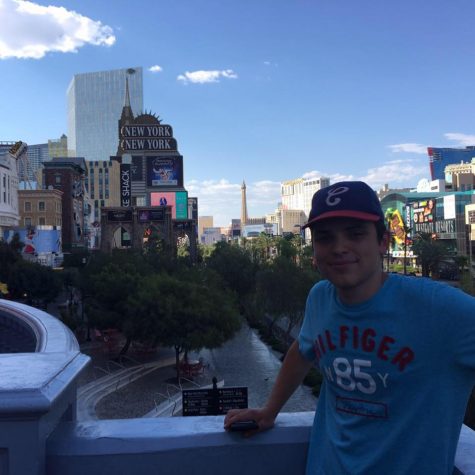 Connor Smith, Spotlight Editor
Connor Smith is a senior and the Stampede's spotlight editor. He is thrilled to return for his second year on staff, as he previously served as sports...