Stampede Staff Playlist: March Edition
Maniac by Conan Gray 
Contributed by Madison McCalley
A very catchy, chill track that makes the perfect song for driving or relaxing in your room. The instrumentals are one of my favorite elements of the song. Conan Gray has a very unique voice that makes this song even better. 
Sunday Best by Surfaces 
Contributed by Madison McCalley
 This is one of those "feel good" songs because of its positive energy. I love listening to this song when I'm in a good mood. The lyrics describe "feeling blesses and never stressed" and that is how I always want to feel. I love how the song emphasizes happiness. 
Punisha by Amyl and the Sniffers
Contributed by Harrison Linden
This song epitomizes what I love about punk. Unbridled authenticity, Raw anger, snappy attitude, and untempered rebellion. They're one of the most impressive new age punk acts currently making music, and Punisha is a song that defines why I enjoy them: they're totally deranged. 
Ayonha by Hamid El Shaeri
Contributed by Harrison Linden
It's pretty much what I imagine it felt like to be at a club in the middle of somewhere during the 70s, dancing the night away. The whole tracklist of Arabic pop is quite impressive, but this song has a glimmering charm to it. Lively and splendid. 
Death and Ashes by Jóhann Jóhannsson 
Contributed by Harrison Linden
It's a song of pure beauty and depravity. It's a somber tale of both grief and destruction, all happening at the same time. You will never experience a song like this, being influenced by industrial, dark ambient, and drone metal genres. Much like the movie it is made for, Death and Ashes evokes a certain whimsicality that is equal parts psychedelic and visceral as the movie itself. 
Here Come The Sun by Jacob Collier and Dodie Clark
Contributed by Amber Corkey
As spring rounds the corner, get ready for warm sun and spirits with a Beatles classic, but with a twist. I have been a huge fan of Dodie Clark, but Jacob Collier is an amazing musician, and his arrangement beautifully juxtaposed Dodie's normal style, but it works so well. This song is great to dance to in the car and enjoy every part of.
Right Before My Eyes by Cage the Elephant
Contributed by Amber Corkey
This is one of my new favorite songs. It was originally on the "Thank You Happy Birthday" album, but I prefer the slow acoustic version. It's about seeing the world around you fall apart. I love this song for how it doesn't have a converse message. It's about how the world is falling apart and that's it. There's nothing to do about it. Listening to the song gives you a couple of minutes to breathe and witness the world around you without worrying about it.
Humility by Gorillaz ft. George Benson
Contributed by Cache Merriweather
Humility is a very light-hearted and feel-good song. It makes me want to go outside and sit under the sun while reading one of my favorite books. The instrumentals are rather unusual for the band as they have explored more of an alternative rock style, but it fits the lyrics and Benson's vocals well. The lyrics are not as light-hearted in the beginning, however; it is more of a comforting song as it touches base on getting out of a bad state of mind and finally getting the help one may need in a time of trouble. 
Stay Beautiful by Jamie Ver and Jimin Park
Contributed by Cache Merriweather
Stay Beautiful is exactly what the title says, simply beautiful. The song lifts up your spirits and gives the listener the type of comfort a best friend would in a time of hurt. It is a song that I tend to gravitate towards when I am feeling insecure or upset. Rather than protecting me from the world, I think this song gives me a lot more confidence to be myself regardless of what anyone else says, and I think that is a very important message that everyone should hear and hold onto. 
About the Contributor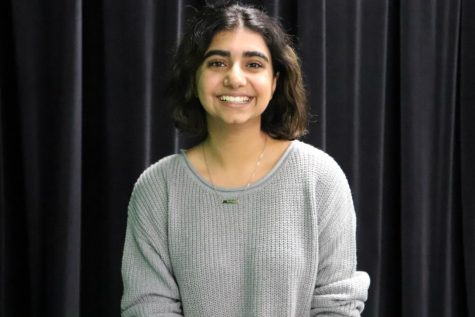 Myra Bajwa, Metea Media Editor-In-Chief
Myra Bajwa is a senior and the Editor-in-Chief of Metea Media. This is her third year on staff, and she is incredibly excited to lead the journalism team....