Fit 4 A Cure organization exercises toward making a positive change
Coming together to make a positive change in the community might be a challenge. However, it is the opposite for juniors Ananya Handa, Zara Bahrainwala, Puja Teakulapalli, and Alopi Shah.  
Four students who share a passion for dancing and helping others combined their interests to create their Fit 4 A Cure Organization. This student-led organization provides their community with free virtual dance, wellness, and fitness classes. The organization offers classes every other week typically on weekends. The genre of dances include hip-hop, pop, contemporary, yoga, and Bollywood. 
"We believed beginning this initiative would be a great way to aid Project C.U.R.E.," Shah said. "We are acknowledging the importance of staying mentally and physically healthy. We started this initiative in aspiration of promoting healthy lifestyles especially during the current pandemic with knowing we are leaving a long-lasting impact on the lives of others."
Throughout their dance lessons, anyone is welcome to donate towards Project C.U.R.E. With the donations received through their GoFundMe, all the proceeds go towards the medical relief. 
"Our organization raises money to help Project C.U.R.E send medical supplies to underdeveloped countries since a lot of them do not get the supplies they deserve," Bahrainwala said. 
The purpose of Project C.U.R.E is to help children live a healthy lifestyle and receive proper health services. They make sure that the hospitals located in these underprivileged countries receive medical equipment and supplies to help families affected by illnesses.  
"Our goal is to raise $1,000 for Project C.U.R.E.," Handa said. "Most of us volunteer there a couple of times a month. We find that what they do there inspiring which was our biggest influence in creating this organization."
Fit 4 A Cure began this past summer in order to promote physical activity while being at home. The importance of staying physically and mentally active is more important now than ever. They continue to use their interest in fitness and community service to create a way for others to find enjoyment as well. The organization offers classes every other week typically on weekends. 
Due to COVID-19 and out-of-state participants, lessons will continue being virtual with the plan of continuing the organization after the pandemic. Through this link, students can find the Fit 4 A Cure website and sign up for lessons. 
"We have participants from not only Aurora and Naperville but from other states as well," Teakulapalli said. "We are planning to keep it online in order to keep others engaged. Anyone can join one of our free lessons via Zoom, and if they can not join a meeting they are more than welcome to donate."
Editors note: This story has been edited to correctly attribute quotes and to indicate that Fit 4 A Cure raises money for medical supplies.
Leave a Comment
About the Contributor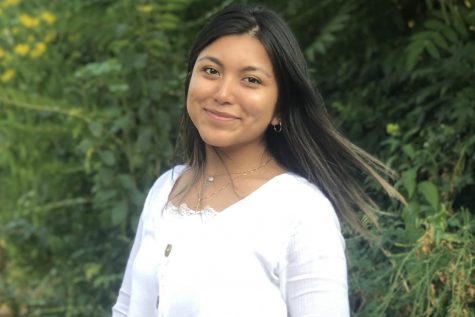 Jessica Velazquez
Jessica is a senior and this is her second year on staff. She is the news editor this year. When she is not in the newsroom, she is either hanging out...