Old and new partnerships: Girls' tennis reiterates the importance of partnership after their tough game against Central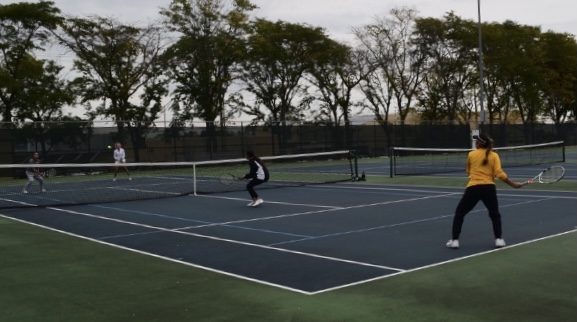 The Mustangs played against Naperville Central last Saturday. Despite it being near the end of their season, they had a blast competing.  
"It was our first time playing together," senior Emma Teo said.
Teo and her partner, senior Ritika Patel, played doubles against Naperville Central on Saturday. Even though it was their first time playing together throughout their duration on the team, the spectators would not have noticed. They had great energy and communication skills whilst playing together.
"We still ended up winning a set," Patel said. "The tiebreaker was really close."
Since it was their first time playing with one another, neither of them were sure how the partnership would go. However, Emma prefers playing at the net and Ritika likes hanging in the back, which made collaboration easier with a balanced set of skills. Emma even played Saturday's match injured, and still performed well especially with a first-time partnership. 
On the other hand, seniors Reese Quival and Varsha Murali have teamed up with one another since their sophomore year. 
"[Naperville Centrals team] is really tough, so we tried experimental new things," Quival said. 
Quival and Murali tried two up and two back on the court to see how that would affect their gameplay. Even though Central proved to be a tough opponent, every team member put in their best effort with smiles on their faces. 
The girls have their Dupage Valley Conference Tournament this weekend at Dekalb.