Senior Maya Ordaz scores a spot on American University womens' soccer team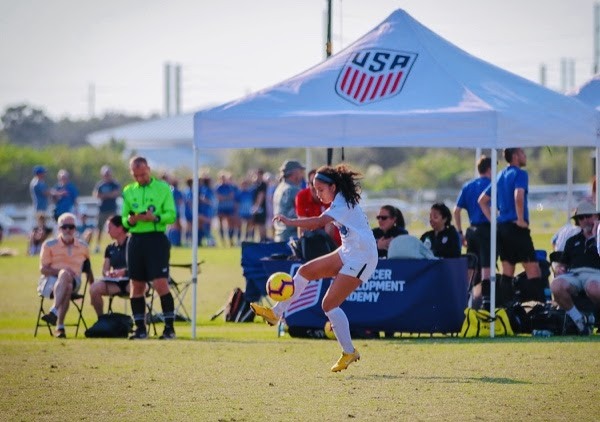 Senior Maya Ordaz recently committed to  American University to play soccer on the women's division one soccer team. Ordaz alternated between Metea's soccer summer camp and playing for the Chicago Sockers Football Club team, all of which aided her upbringing in the sport. Now with the promise of playing collegiate soccer next year, Ordaz reflects on what got her here and what her future in soccer will look like at American University. 
Maya Ordaz started her soccer journey at the young age of four, inspired by her grandfather who shared her love of the sport living in Mexico. Ordaz instantly clicked with the sport and joined her first travel team at six years old. Today it remains her most prominent passion, currently playing midfielder for her club team as number 10.  
"
Soccer means everything to me. It allows me to have a competitive outlet where I can forget about everything in life and just be a part of something bigger than myself.
— Maya Ordaz
Although she never played full time on Metea's soccer team, the summer camps that Metea allowed Ordaz to play off-season and keep her body physically fit over the summer while practicing her technique for the upcoming seasons. 
"My favorite memories from Metea regarding soccer would have to be the time I spent at the summer soccer camp every year since I moved to Metea," Ordaz said. "It allowed me to get to know more people who like to play soccer just like me while also getting better at my craft."
 When she was not practicing in Metea's summer camp, Ordaz played fall and spring seasons on the Sockers FC team, a nationally recognized soccer program of Chicago. Sockers FC was able to take soccer to the next level for Ordaz such as her to play matches against tougher teams.
"My club team has prepared me for college soccer by allowing me to play in the most competitive youth league in the country where I could be exposed to a high level of soccer teams and creating a competitive environment so I could learn new things and continue to sharpen my skills," Ordaz said. 
As for Maya's future, she now looks forward to starting at American University next year playing on their National Collegiate Athletic Association division one level, which is the most competitive league in the country for collegiate athletes. On top of that monumental accomplishment, Ordaz also received athletic and academic awards to attend American University as a biology major.
"
We had liked the school and coaches so we feel very blessed that she had been offered this opportunity.
— Araceli Ordaz
American University appealed to Maya over other schools for many reasons knowing that it would meet both her academic and soccer needs for college while being in a bustling urban setting.
"I decided to commit to American University because it was the perfect fit," Maya said. "It had the perfect balance of a rigorous academic program and a competitive division one soccer program. The coaching staff's philosophy of developing an individual rather than just a soccer player also convinced me that AU was the perfect place for me."
Maya's parents have been very supportive of her decision to attend American University and have been her biggest cheerleaders throughout her soccer career and in all her academic endeavors.
"Maya is extremely generous, caring and self-motivated," Araceli Ordaz said. "She works hard to be the best she possibly can be. She handles losses with grace and overall has a positive outlook."
Senior Kailyn Terry at Joliet Catholic Academy is one of Maya's teammates on the Sockers FC team. Kailyn, like Maya, plays midfield for the club team. Both girls met in the sixth grade and have bonded ever since over their love of soccer.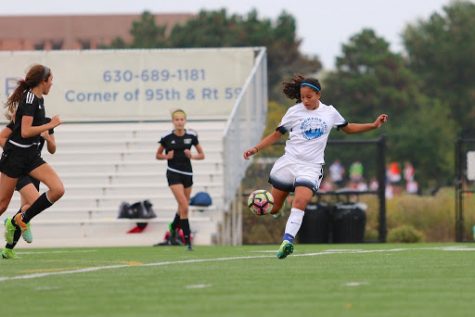 "Maya is an amazing teammate and playing soccer for her is very enjoyable," Terry said. 
Although COVID-19 did not pose a large threat to Ordaz's recruiting process, the rising number of cases in Illinois canceled her fall season with her club team. This being her last year on Sockers FC, Ordaz hopes their Spring season will be more promising. 
"I do worry that the season might get canceled due to COVID-19," Ordaz said. "[But] I will challenge myself this season by trying to give my best 100 percent of the time to help the team."
Ordaz, now looking forward to her last soccer season before college, looks to advocate for people of color and inequality within the sports industry as she gets ready to enter a more professional level of soccer. Although she has never faced prejudices in soccer for being a person of color, she knows all too well the female to male stereotypes that plague the sports community. 
"I can connect with the frustrations these female athletes feel when being discriminated against," Ordaz said. "When I was younger I regularly played with a boys team because my coach felt it was a more competitive environment for me and would only help with my development as a soccer player. There were some practices where no one would pass me the ball or want to be on my team because I was the only girl there."
This pushed Ordaz to prove that she could play just as competitive as the boys and gain respect by doing so. Ordaz takes this knowledge into her future in the soccer industry knowing that she will continue advocating for the female soccer community and herself.
"If I could tell young girls who hope to play college soccer one day I would tell them to work for it," Ordaz said. "If they want to continue to play, put the work in when no one is watching or when no one is making you do it because that is when it matters and that is what will set you apart. Eventually, all your hard work will pay off.