Fire alarm causes sudden building evacuation
Students and staff evacuated the building on Thursday at 11:00 a.m nearing the end of the third period due to the fire alarm going off. The alarm was unanticipated and students quickly gathered their belongings to walk out to the nearest exit. The alarm was not a drill since teachers and staff did not receive an email ahead of time, making it unexpected.
"We were in communication with Officer Kern and our facility manager Mr. Nunez to figure out why the alarm was going off," Assistant Principal Daniel Debruycker said. "There was work being done down by the pool, and from the smoke that was created from the work they were doing, caused the smoke alarms to go off." 
All students were unaware of the cause of the alarm, which created confusion among hybrid students and remote students. For students like senior Damini Rao, her teacher who is remote was unaware of what was happening. 
"I was on a Zoom call with my English class, and she was explaining a project we were working on," senior Damini Rao. "Since she was at home, I did not know what to do because she could not hear the alarm, but luckily our substitute teacher told us to act like a normal fire drill."
Remote learning students were instructed to wait on Zoom until the fire department was able to tell administrators when it is safe for all students and staff to come back into the building.
"For me at that point, I didn't have a class because I was observing a teacher teach hybrid learning," PE department chair Craig Tomczak said. "The teacher that I was with said to the students, 'there is a fire alarm going on at school, stay on and I'll be back when it's done' and closed her computer." 
Tomczak is aware that safety is a priority, such as making sure all students get out of the building, but so is keeping up with social distancing guidelines among students while waiting outside. 
"I think the first thing we always have to think about is safety," Tomczak said. "We need to get everyone out of the building as quickly and effectively as we possibly can because sometimes we don't know what is going on."
Once students and staff were outside of the building, Metea staff made sure students were spread out to follow safety guidelines. This event raised discussion on the effectiveness of COVID-19 safety guidelines in conjunction to fire and severe weather guidelines. Administrators are making accommodations to make sure students continue to practice drills. 
"For the severe weather drills, we are not going to have everyone lined up next to each other in a crouching position," Debruycker said. "Instead, we are going to watch a video. We are continuing to make adjustments off of that."
Leave a Comment
About the Contributor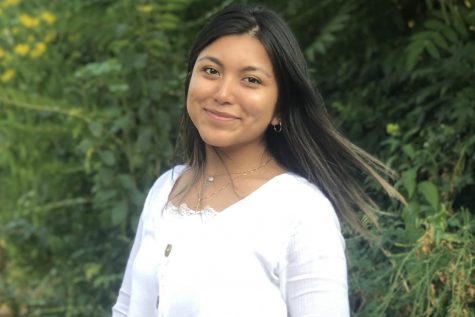 Jessica Velazquez
Jessica is a senior and this is her second year on staff. She is the news editor this year. When she is not in the newsroom, she is either hanging out...