The IPEF champions creativity in schools through the Fine Arts Festival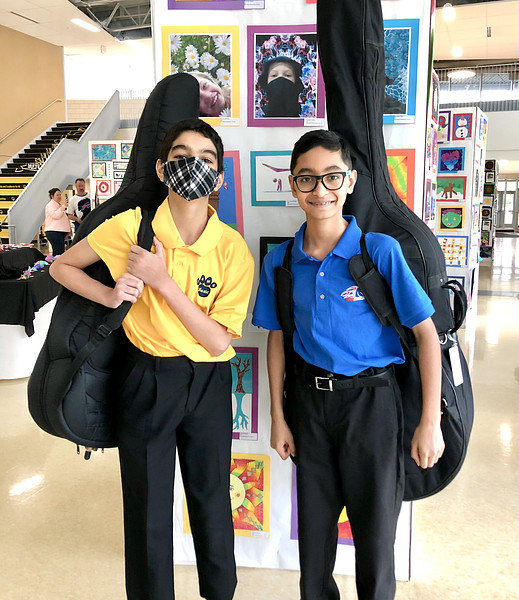 District 204 schools are participating in the annual Fine Arts Festival on Sat. May 20. The festival is free to the public and will include musical performances from each ensemble and contributions by student artists.
Although the Fine Arts Festival is held at the three high schools, students from Kindergarten through 12th grade participate. As a result, over 12,000 pieces of art go onto display, and approximately 1,000 student musicians perform. According to Dr. Trudie Ranson, executive director of the Indian Prairie Educational Foundation (IPEF), the fine arts festival is a well-loved tradition for District 204.
"The Fine Arts Festival is the largest public event that District 204 puts on every year," Ranson said. "Last year, we had an estimated 32,000 people attend."
The IPEF has been providing funding for the fine arts festival since 1987, one year after the festival began. The first fine arts festival occurred in a tent behind Brookdale elementary school, with about 200 participants. Now, with the help of the IPEF funding, the fine arts festival is a massive event, which spans all three high schools. While many parent volunteers help to ensure the event runs smoothly, no taxpayer money is utilized. Instead, it is paid by private donations to the foundation.
"[The IDEF] thinks that fine arts are an incredibly important part of every student's education and we want to keep being able to fund this program in the future," Ranson said. "It is our signature program."
According to Americans for the Arts, Art education is beneficial for students inside and outside of the classroom. Students who participate in art classes are more likely to be motivated in their studies and learn skills, such as creativity, critical thinking and patience, which will help them in the real world. Yet, not all schools offer Art or Music programs for students. There have already been cuts to art programs nationwide, which often affect students of color disproportionately. However, District 204 offers numerous art and music programs for students to participate in, which are showcased at the Fine Arts Festival.
Since its founding, the Fine Arts Festival has occurred each year except during the COVID-19 pandemic. Ranson looks forward to continuing this tradition.
For students interested in attending the Fine Arts Festival, entry is free. Multiple music groups will be performing and there will be art displays from all grade levels to browse. Ranson is thankful for those involved in creating the event and urges students to go check it out.
"It takes a small army of people to do this," Ranson said. "Everybody in the music department, the art department, parents, volunteers, staff and students works together, [despite] a very short turnaround."