Boys' Basketball
The Mustangs finished the week 1-1, pushing their overall record to 9-13. On Tuesday, the team earned a well-fought victory in a rivalry game against Neuqua Valley 74-69. The game highlighted just how good the Mustangs could be. However, on Friday, the team fell to Naperville North 68-74 in a tightly contested game. The Mustangs hope to put together a string of victories against Naperville Central and Wheaton North this upcoming week.
By Nirmal Mulaikal
Sports Editor
Wrestling
After a hard week of preparation, the Mustangs placed fourth in the DVC tournamnet with first place finishes from senior David Rojas (220) and freshman Phillip Sims (113). Uri Ariza (120). Jake Toepfer (138), and Dylan Ervin (195) finished in second place. On Saturday, the Mustangs will compete in the IHSA Regional meet at Naperville North.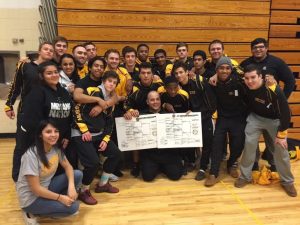 [quote]By Ashley Walker
Social Media Editor
Photo Courtesy of Twitter @MeteaWrestling[/quote]
Girls' Basketball
The Mustangs competed in three close, competitive games this past week. The first against Naperville Central came down to a close second half, resulting in a narrow loss of 71-57. Later in the week, the Mustangs not only conquered the Waubonsie Warriors 48-27, but the entire women's basketball program won their games, completely sweeping away the Warriors. Finally, the week ended on a bit of a sour note after playing Lake Park. Although the game was well played and incredibly close, Lake Park pulled through, beating the Mustangs.
[quote]By Nikki Roberts
Online Writer[/quote]
Boys' Swimming
This past Saturday, the boys' swimming team competed in the Mustang Invite, placing third overall. Although there were no top place finishes, Robert Wang placed 2nd in the 200 IM, Alex Dillman placed second in the 100 fly and the 500 free. Bronze finishes include Kevin Kluge in the 500 free and the 400 free relay team. There were also a few fourth place finishes, including Wang in the 100 back, and John Tjards in the 50 freestyle. The team also achieved a dominant victory against Wheaton Warrenville South this past Thursday on the team's senior night.
By Lucas Rhamy
Sports Writer
Girls' Bowling
This week, the Mustangs produce a win against Plainfield Central Monday night, with a score of 2782. The team also performed well at the Leyden Invite Saturday morning, taking second place. Senior Alexis Dowell set a personal record at Leyden, with a score of 279. Alexis Sutherland also performed well, scoring 254 in one of her games. This upcoming Saturday, the Mustangs will compete at the IHSA regional tournament.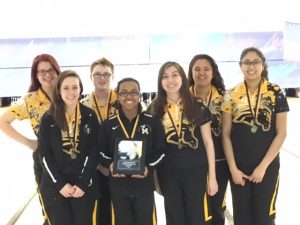 [quote]By Qiyuan Zhou
Graphics
Photo Courtesy of Kristen Mansmith[/quote]