Elevate creates a program to empower young women
Female students had the chance to attend the first Elevate meeting at Metea last Friday. Teachers nominated a  students to join the Elevate event on Tuesday, and this year they are able to participate. The program, created by language arts teacher Ann Cluxton, empowers and motivates young women to improve in any way possible. 
"This program is for you all young women to express yourselves. This is an idea we've been developing, and this is our first year of Elevate. This is a program to educate and empower young women in different ways," Cluxton said. 
There were different sessions for all the girls to go to, and they were led by several women.  Fashion do's and don'ts, self-defense, personal affirmation, and spoken word were all a part of the Elevate program. Sessions were led by Rachel Bostick, Lisa Lassanderello, Jennifer Rowe. A few special guests attended this day as well. 
This was a great way for the Elevate members to meet new friends and women who were successful that they could look up to.
Aurora Police Officers Cristine Tunney and Skye Calice hosted the self-defense course, showing everyone how to escape attackers, and how to get out of bad situations. 
"The self-defense course we took was a lot harder than I thought It would be," junior Ashlee Harris said. The course was made to show students possible ways to get free from anyone trying to harm them.
Both officers showed the young woman how to get out of chokeholds, wrist grabs, and many other things. "You don't know how hard it is to escape someone's grip until you're in a situation where it's necessary," Harris said. The students got to practice escape tactics on each other, and tried to figure out new ways to get free when they are in danger.
"It's important to have these kinds of days every once in a while to make sure that we keep in mind the aspect of this community of women," junior Julia Tesmond said. Elevate is in its first year running and students are giving great feedback. 
During a group session, Stephen Garcia and Aisha Ghori Ozaki from All-State talked about preparing for the future. Garcia and Ghori Ozaki focus on inclusion and togetherness to make sure everyone knows that they're in good hands. They look for ways to prevent obstacles and are always trying to improve. They make sure that assumptions are not made and that everyone feels included.
"At All State 56% of our workers are women and 44% are male, but out of all of those people, men still have more power," Garcia said. 
Diversity and its importance were also a big part of Elevate. This event was a safe space for all women to support and accept others, and it is a great way to get young women involved in their futures. 
About the Writer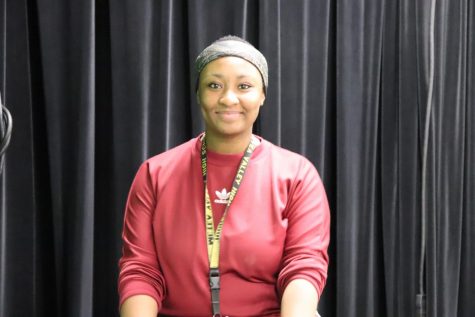 Brittany Evans, Magazine Editor-In-Chief
Brittany is the magazine Editor-in-chief, and this is her second year on staff. You will most likely find her in the library writing, or in the senior...