Spoiler free Review
The long-awaited sequel release "To All The Boys I've Loved Before" has many fans talking. The previous movie left with Peter Kavinsky and Laura Jean Covey on the lacrosse field sharing a special moment that led to many fans asking questions. After the first movie was released many were waiting to see what the future had in store for the cute couple. 
To "All The Boys P.S. I Still Love You" is based on the #1 New York Times best-selling series written by Jenny Han. It was exciting to see Han's cameo performance as a heartfelt teacher consoling a young girl in the lunchroom on Valentine's Day. To my surprise, I was pleased that there were some references to the book that appeared in the film.
Lana Condor does a fabulous job portraying the character of Lara Jean by being her fun, stylish, serious, romantic, and quirky self. Noah Centineo plays a great role as Peter Kavinsky in showing the jock but also the heartfelt side of him. 
When the movie was released, I had very high expectations because the first movie was well executed. It was not your typical romance movie, it had many fun quirks and an interesting plot twist that made you want to keep watching. I would not say "P.S I Still Love You" was bad, but there were definitely some downfalls to the film. First, the movie was too short and rushed. It was only an hour and a half and for a romance movie, I felt like it could have been a lot longer. There were many parts in the movie where the scenes were just frankly boring. There were not a lot of sentimental moments with Lara Jean and Peter like there was in the book. I was seeing too much of Lara Jean and John Ambrose, who all of a sudden comes back into her life, but not enough of Peter. I would have liked to see them together a lot more and grow deeper in their relationship. This movie lacked romance. Even though the book and the movie correlated in some parts, I felt like they missed a couple of important details. There were a lot of things missing from the book that would have made the film a lot more cohesive and longer.  Like most movies, this film was predictable. Even without reading the book you would be able to know what happens next.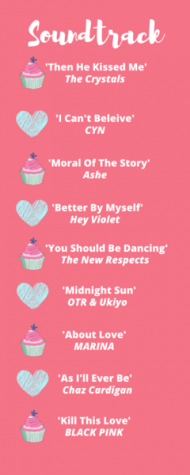 One aspect of the movie that I thought was a huge highlight was the soundtrack that played throughout. I felt that every song that was imported went perfectly along with each scene. Whether it was a happy or sad scene the song fit right in. One of my favorite songs from the movie is "Moral Of The Story" by Ashe. Laura Jean was going through a heartbreak, the song played and it fits right in with what was going on. The producers definitely deserve credit for picking a really great soundtrack to go along with the movie.
Rotten Tomatoes gave "To All The Boys P.S. I Still Love You" has a rating of 73%. I personally would have given it around the same rating because although it was good, it could have been a lot better. Unfortunately, this movie does not compare to the first one. If Netflix decides to come out with a third movie, I hope it can regain the fun, comedy, suspense, freshness, and romance of the original movie.