204 parents and students rally to re-open schools
Parents and students held signs reading "Zoom zombies" and "students learn better in person" as their frustration echoed across the parking lot of the 204 District Office Sunday afternoon. Around 100 204 community members showed up to advocate the reopening of schools. Even with masks on and social distancing, there was loud collective support coming from the attendees.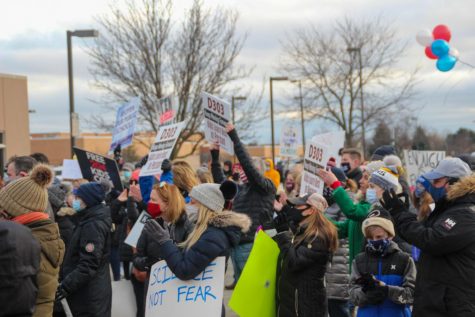 Parents and students from 204 gathered in front of the IPSD District Office for the Rally to Reopen Schools yesterday. The IPSD 204 Parents Advocating for Choice Facebook group organized the event. After months of remote learning, parents and students who attended the rally hope the school board will be able to immediately begin in-person learning five days per week as a remote learning option.
Despite the cold weather, people continued to cheer in support of the speakers' messages. Throughout the rally, there were student, parent, and keynote speakers including Adam Russo, a local therapist and District 203 parent, as well as Paul Vallas, the former CEO of Chicago Public Schools.
"I am outraged for the 204 students who have not set foot into a school building in 275 days. I am outraged for the special education students who are not receiving the services they deserve," 204 parent Kavitha Sivanandan said. "I am outraged for teachers that are doing double the work.
Parents had false hopes given to them in the past by district administrators since the start date for hybrid learning was pushed back three times. In a message sent out by Superintendent Dr. Talley, 204 school buildings will re-open in-person learning the week of Jan.25. 
"I believe the hybrid plan we started implementing in October provides a safe option for families who want in-person instruction, while also providing an option for families who want to continue with remote learning," Talley said in a message. "We look forward to continuing the implementation of our plan in January."
With the aspiration for the district to enact in-person learning, the organizers created banners reading: Our schools, our choice, our say.
"
"These [banners] are for the voiceless teachers who did not sign up for remote teaching and know the difference they make in the classroom every day with their students. Students that are now falling behind if they are even attending at all."
— 204 parent Shannon Adcock
Parents who attended the rally want the choice to send their students back into the buildings due to the effects they see Zoom has on their students.
"Zoom does not work for all kids," 204 parent Amy Puffer said. "We know remote is not going away, but we can do both. We want the choice to send our kids to school or keep them home."
Participants repeatedly stated that it is now time to drop the excuses made by the school district. They want to see the district follow through with the hybrid transition plan in January. 
"I can tell you I personally never had a problem focusing in school until now," Gregory Middle School student Colin S. said. "Staring at a screen for up to seven hours a day has made it very difficult to focus and be engaged in remote learning."
The school district is planning to continue with the hybrid transition plan and will address the plan in the school board meeting tonight at 7 p.m.