Seniors take advantage of off-campus lunch
To reduce overcrowding in the commons, the District 204 school board is temporarily allowing seniors to go off-campus during their lunch period. This year students can grab lunch or stop at home anytime between their lunch periods.
Senior Jasmine Allen loves the ability to go off-campus for lunch so far. 
"Well, I love it, honestly, because I just like being able to take off my mask for a little bit, and it is a nice break so you don't have to just sit and eat awkwardly," Allen said.
 COVID-19 guidelines state that students must stay at least three feet apart from each other in the building this year. This guideline is difficult to follow during lunch since students can not wear their masks while eating. To accommodate social distancing, tables were moved outside to the auditorium and library as well as the nearby locker banks. However, these spaces are not enough for the large student body. Plenty of seniors drive themselves to school so off-campus lunch is allowed for all seniors temporarily. The rules are not as strict as seniors expected; having an ID to re-enter the building and returning before the bell rings for the next class are the only requirements.
Most days, Allen goes out with her friends during lunch. There are no rules against seniors riding together to get off-campus lunch.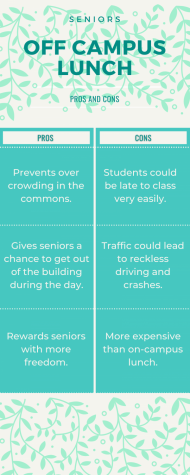 "Lately, I have been going to Starbucks, but other than that I think I want to see if I can make it to Patelli´s or not." Allen said. Off-campus lunch overall has been relaxed, without strict guidelines to follow. Being able to drive to school is something everyone has loved. 
With the bus being overcrowded  ¨Being able to drive is a freedom in itself, and then being able to go wherever you want to eat for lunch. I think that it kind of adds to that freedom.¨ Allen said. Senior year is about enjoying high school,  and all the new opportunities that come with being a senior. Having more freedom is what seniors 
want, so off-campus lunch is definitely being taken advantage of.
Off-campus lunch is definitely an advantage for seniors this year due to the COVID-19 pandemic. 
"Senior year is your special year and you get to have more," Allen said. "Well, you have more responsibilities, but you also have more freedom so I think having off-campus lunch after the pandemic would be awesome." Seniors have enjoyed off-campus lunch so far. The whole idea of getting out of the school, and being able to take off your mask for a while is something seniors are enjoying. So, yes, senior off-campus lunch is temporarily available for the class of 2022, but will there be a push for off-campus lunch to become a future privilege for seniors at Metea?