Metea offers opportunities for students to learn more about furthering their education
Students got the opportunity to learn more about college and what their future might hold on Dec. 7. Assistant Director of Undergraduate Admissions and Recruitment, Kaci Abolt and Coordinator of Undergraduate Outreach and Recruitment Dayna Jones of University of Illinois Urbana Champaign, hosted a presentation during lunch periods in the large forum room. In their presentation, they talked to students about how they can find a career that fits their interests and personality. Later that day, students were also offered to join a zoom meeting with four recently graduated alumni to learn the truth about what college is like.
"Students are concerned if they are studying the right major or if they are going to the right college," Guidance counselor Tom Daugherty said. 
In Abolt's and Jones's presentation, they talked about Holland's theory of career choices and how it can help students choose what career would be best suited for their personality. 
"Our personalities will naturally fall into one of many of these six areas," Abolt said. 
The six environments or better known as personalities in Holland's theory are realistic, investigative, artistic, social, enterprising and conventional. These personality types differ from one another because each one has different skills, attitudes and values that an individual possesses. Following a career path in the environment that best fits one's personality will help one find the most fulfilling career.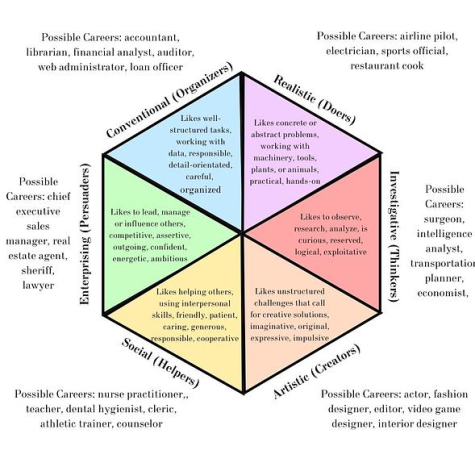 "Using Holland's model [will help] you find a major or a career goal that fits your personality type," Abolt said.
After the presentation, Mr. Daughtery told the students that he had his son take Holland's test. 
"When my son was a senior in high school I had him take that interest inventory to help him see some options of things that he could study in college. He thought he wanted to be an engineering student and went to college to be an engineering student but engineering wasn't high on the list," Daughtery said. "Midway through his sophomore year, he discovered that business might be better for him and he switched his major. After graduating he is now working in the business world. He came back to me and said that Holland's test was accurate."
Later in the evening on Dec. 7, Mr. Daugherty hosted a zoom meeting for students to join to hear some advice from current college students that graduated this past spring. Four panelists joined the meeting and are all currently attending a college or university out of state. Over 80 students attended the meeting and each of the panelists got the opportunity to share their experiences in college so far. 
"The students made good points about being organized, getting involved, and managing time," Daugherty said. 
The zoom meeting allowed students to learn more about what college entails. The environment between high school and college is different and might be a difficult change for some students. 
"Some go and do not look back and it is a great transition for them and sometimes students go and it is a challenge," Daugherty said.
It is important to the guidance department that they provide students with as many opportunities as possible. Students are at the point where they are starting to think about their future after high school. With many different paths, students can choose from, the department hopes to give students the knowledge they need to decide.
"Most of our students who graduate from our high school have strong outcomes and find academically that they can do well at the institution that they choose to go to," Daugherty said.