[quote]By Drew Danko
Online Editor
Photos courtesy of Pallavi Parida[/quote]
What exactly are you selling these shirts for?
The shirts are for a village in India that my family opened up and all the profit is going to them. It's a small village named Srichandanpur in the state Odisha, where my grandpa is from. After he passed away, my dad took some of the will money and started a school with it. The children there didn't have a school and wanted to learn English, so it's an English medium school where they learn English and basic curriculum.
Why did you decide to use the money for the school?
Education is so important. When we went to visit, I saw they had nowhere to study and they were very willing to study too, so we decided opening the school would be really nice for them. The school opened up in January of 2013, so they've been studying there for three years now. A lot of the kids are really sweet and they were so excited when I told them we were opening a school, especially at the inauguration.
Why do you think education is so important?
Education leads you to success and drives a pathway for you to get a job and make a living for yourself. These kids don't have a pathway, so opening the school paves that pathway.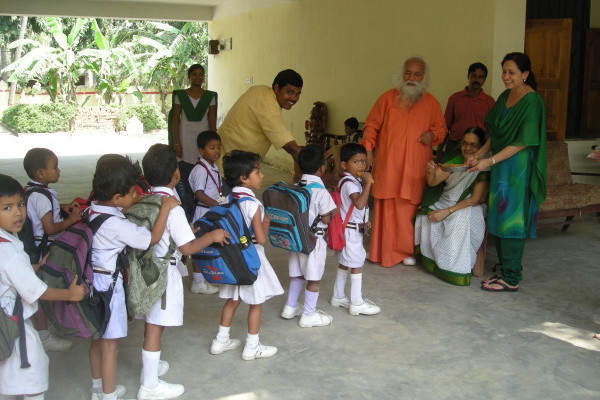 How did you end up deciding to sell these shirts?
I was drawing the design for fun in my room and I showed it to my parents. In India, the elephant god Ganesh stands for wisdom. My friends thought it was a cool design, and I thought I could connect it back to education and the village school.
How does the school function?
There are five teachers and 76 students. They teach elementary core curriculum for ages four to seven.
Are you planning on visiting the school soon?
I want to go soon and provide information that they could use. I could help them learn English.
How does it make you feel helping these kids?
It makes me feel really happy. I talked to some of the kids there over the phone and they were so excited to find out that kids from America wanted to help them. They were so thankful. With this money from the shirts, they can buy school supplies.