By Prashant Shankar
Online Writer
Photos by Prashant Shankar
Teachers gathered on Tuesday to collaborate and share teaching skills and experiences with each other in an "un-conference" called Edcamp. Edcamp isn't a typical teacher's conference, as teachers work with each other under their own experience instead of hiring outside resources or instructors.
"Edcamp is a professional development opportunity where instead of hiring people to come in for teacher's professional development, it's the idea that we already have experts here," English teacher Kristen DiGiorgio said. "It's the idea that we all do things differently and we can learn from each other."
Edcamp had a wide selection of events, such as tech tips, remediation in the classroom to learning how to connect with students in the classroom better.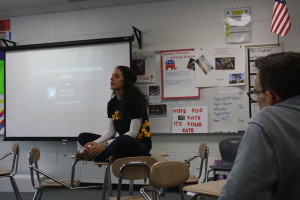 "We're going to be talking under the remediation and reteaching section in the third [time slot]," reading specialist and English teacher Ann Cluxton said. "We're talking about how how remediation looks like in the American History classroom, and we're leading the discussion on how to approach it."
Edcamp kicked off with a free lunch at 11 a.m. for any teacher that signed up for the event, in hopes to attract more to the event and give teachers a chance to communicate with their colleagues they normally can't talk with.
"[Lunch] gives us an opportunity to sit down and discuss topics that are relevant to all of us as teachers, and to meet with colleagues you don't see on a daily basis," Cluxton said. "That was really our goal, and so far, we're succeeding."
During lunch, teachers were allowed to freely sign up for time slots to present to their peers, as no scheduling was done beforehand. "People will sign up for what they want to teach/show off, and at the same time teachers will decide what rooms they want to go to, and then they'll run through the rest of the day," Social Studies teacher Josh Robinson said.
After lunch, sessions went on until 2 p.m., where some teachers hosted sessions, while others listened.
"I came out of a session where we discussed using the blog 'Humans of New York' as a way to get students to discuss the human condition, practice skills about inferencing, to get people to talk about personal issues with good questions," English teacher Casey Solgos said. "It was quite fascinating."
At the end of the day, teachers enjoyed Edcamp and what it had to offer. "I liked it a lot, and I found it to be an interesting and informative way to think creatively about how to get students engaged in skills that are related to the language arts, to make them practice english even if they don't realize they're doing English related skills," Solgos said.