You should be reading these books this holiday break
This winter break, take advantage of the free time you have and pick up a book that you couldn't read during the finals season! Whether it's something festive to keep you in the holiday spirit, something inspirational to kick off the new year, or just something entertaining that you wouldn't otherwise have the free time to enjoy, there is a good read out there for you this holiday season!
Cozy Classics:
Let it Snow (John Green) (Maureen Johnson) (Lauren Myracle)
"Let it Snow" is your classic "curl up in a blanket with a festive book" novel. Three different winter romances written by three different authors are entwined during a snowstorm in the fictional town of Gracetown. All three stories are written with witt and whimsical character, giving the reader an entertaining and light hearted experience.
Dash and Lily's Book of Dares (Rachel Cohn) (David Levithan)
Dash and Lily's "Book of Dares" is Cohn's and Levithan's third collaborative YA novel. John Green fans might recall David Levithan from the duo's collaborative novel, "Will Grayson, Will Grayson" (which was set in Naperville and Chicago!). Dash and Lily's Book of Dares follows two teens in New York City the week prior to Christmas. As complete strangers, they meet through a book of clues that turns into an ongoing narrative of dares. As both are a little bored and antisocial during their holiday season, Dash and Lily start to hide behind the characters that they have orchestrated for each other in their book of dares.
New Year, New Mindset:
Bending the Universe (Justin Wetch)
"Bending the Universe" is the perfect read for poetry lovers. Alaskan Artist Justin Wetch shows off his compelling, albeit slightly pessimistic, voice in his collection of 100 poems. Even readers that are not normally drawn toward poetry can easily enjoy this descriptive collection. Wetch divides his book into five sections: Society, Love, Life, Personal and Nature.
The Last Lecture (Randy Pausch)
Carnegie Mellon University professor, Randy Pausch, gave a moving 'Last Lecture' during his last months teaching after he was diagnosed with terminal cancer. After a video of the lecture became an internet sensation, he decided to put it into writing in this inspirational and captivating book. He focuses primarily on the importance of overcoming obstacles and seizing the day, so pick up this book if you are looking for inspiration or motivation this new year.
Young Author Hits you shouldn't miss:
Don't You Cry (Mary Kubica)
If you're into mystery, "Don't You Cry" is the book for you. Kubica's thriller takes multiple turns into a breathtaking adventure. Esther Vaughn disappears from her Chicago apartment, leaving behind only a note addressed to, "My Dearest". Her roommate, Quinn Collins, is left bewildered and confused. Around the same time, a woman appears in a coffee shop an hour away from Chicago and catches the attention of Alex Gallo, the coffee shop dishwasher.
Mosquitoland (David Arnold)
For those looking for a down to earth and realistic read, "Mosquitoland" is a Young Adult favorite. Mary Iris Malone (a.k.a. Mim) is a 16 year old girl coping with the recent divorce of her parents. She moves to Mississippi to live with her father and new step mother, but immediately begins a journey home to her mother in Ohio on a Greyhound bus. Her narrative is broken up between first person and letters that she writes to a mysterious person named Iz. Mim's journey consists of a lot of learning, where she meets a surplus of interesting characters along the way and decides that "The good guys aren't all good, the bad guys aren't all bad, and any character wholly one or the other shouldn't exist at all." This coming of age tale told from the perspective of a witty (and albeit somewhat vulgar) character is a must read.
View Comments (3)
About the Contributor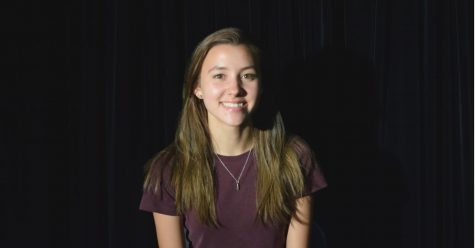 Claudia Grzyb, Spotlight Writer
Claudia Grzyb is a senior at Metea Valley and is currently in her second year of being on staff. Claudia has been on the Metea Valley Speech team, and...