MV After Hours
At our school, many students and faculty stay past 2:25 p.m. once the normal school day ends. However, not everyone may know what occurs at a certain time, as our school is continuously filled with a wide range of activities.This past Tuesday, members of the Stampede toured our school after the regular day ended to see exactly not only what occurs, but when and why as well.
2:30 p.m
Location: H103
Literary magazine holds its weekly meeting and discusses submissions regarding student-produced creative works that come together in an annual magazine showcasing photography, poems, short films, short stories, drawing sculptures, essays and any other mediums of creativity.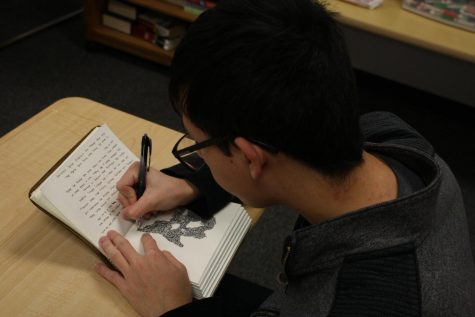 Juthi Saha
2:40 p.m-
Location: Auditorium and Auditorium Lobby
Orchesis practices for their annual "Under the Lights" Showcase on February 16 and 17. Different groups practice separate dances at the same time in the lobby and auditorium stage.
Juthi Saha
2:44 p.m.
Location: The athletic office and hallway
Athletes from all corners of Metea conjugate in the athletic office or hallway, talking with coaches and doing a variety of stretches. Some basketball players hang out, while a couple track athletes start to stretch on foam rolls in preparation for their day of practice ahead.
2:50 p.m-
Location: Fox Bowl Bowling Alley
The bowling team starts boarding the bus to their game against Plainfield at Fox Bowl.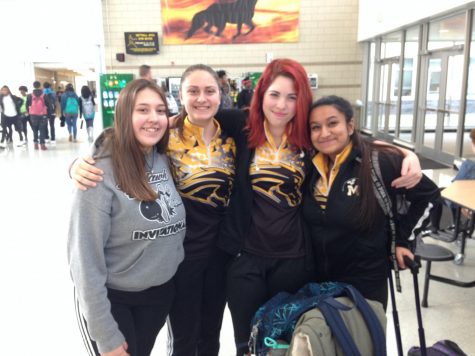 Juthi Saha
2:50 p.m.-
Location: The Commons
The girls basketball team members start to prepare for their upcoming game with snacks and lots of jokes in the commons.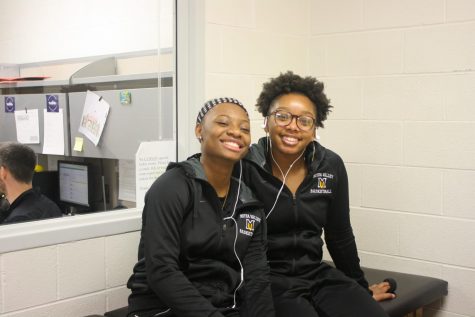 Claudia Grzyb
3:30 p.m.-
Location: The Vaughan Center
Once a week, the sprinters and select runners from the Metea Valley Track team hop on a bus and make their way down to the Vaughan Center in Aurora for their practice. The girls team starts with a warm up jog around the center's indoor track, while the boys start their stretching. After they will finish up at the center, they will return back to Metea to lift weights in the Weight Room.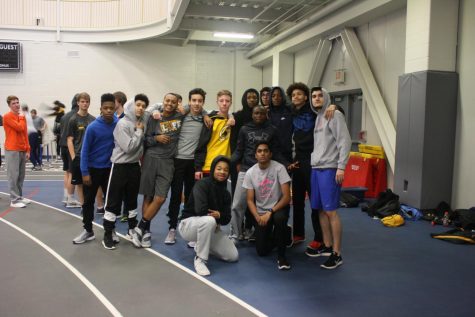 Claudia Grzyb
5:15 p.m.-
Location: H100 Wing
The speech team takes over this hallway for their after school practices. Regional representatives prepare for their upcoming tournament at Neuqua by performing in front of each other for critiques and attending Coach rehearsals with Mr. Simon or Mr. Wolski in their classrooms. Days like this- of coaches and rehearsals in the classrooms- occur almost daily throughout the season.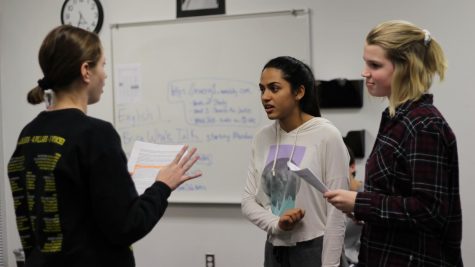 Connor Smith
5:54 p.m.-
Location: H200 Wing
As the school day is nearly two and a half hours over, janitor Carolina Anderson is hard at work cleaning rooms in the H200 hallway. Anderson and the rest of the custodial staff often divide up tasks depending on the day, making sure everyone has responsibilities and an equal share. "It is hard, but everyone has an equal responsibility," Anderson said.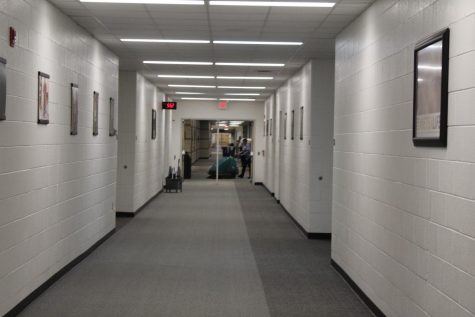 Connor Smith
6:25 p.m.-
Location: Main Gym
Although tip-off for the varsity boys' basketball game against Naperville Central is still over an hour away, the sophomore boys have just ended their first half against Naperville Central with a dominant 28-19 lead.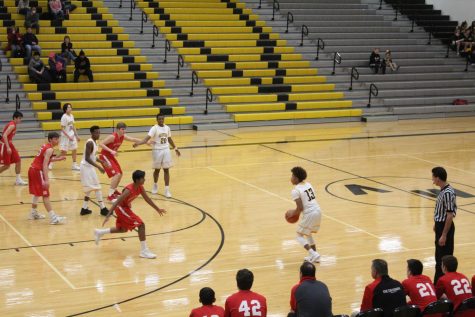 Connor Smith
6:42 p.m.-
Location: Band Room
Over in the music wing, one talented group of musicians is warming up to provide the musical accompaniment for tonight's varsity boys' matchup. Pep band, which performs at select boys' and girls' varsity home games and consists of members from the Marching Mustangs and Jazz Ensemble is busy preparing fun and upbeat tunes to perform during the game. "It's not just about the music but I like coming to the games as well," freshman percussionist Connor Redman said.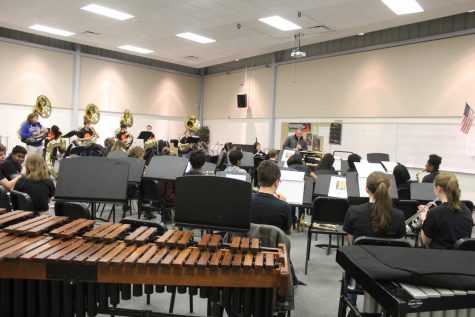 Connor Smith
7:31 p.m.-
Location: Main Gym
The teams have warmed up, the fans have entered and the "Star-Spangled Banner" has played. It is now time for tip-off as the varsity boys' seek an important win against a tough fellow DuPage Valley Conference rival, the Naperville Central Redhawks.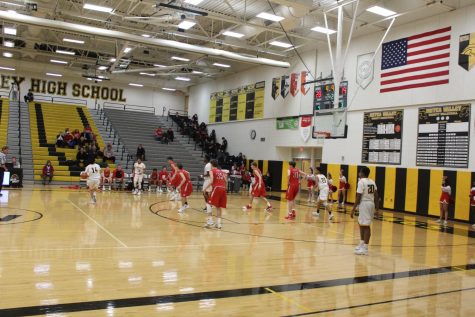 Connor Smith
8:01 p.m.-
Location: Main Gym
At halftime, we are all tied up at 29-29. Both teams have played with a ton of momentum thus far, yet the Mustangs will look to prevail and gain the home court win.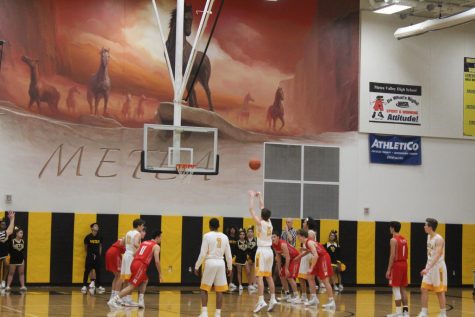 Connor Smith
8:49 p.m.-
Location: Main Gym
That's a final. After a rather intense second half filled with close plays and timeouts, the sounds of "M.V. Victory" ring throughout the gym, as the boys gain a commanding 65-48 win.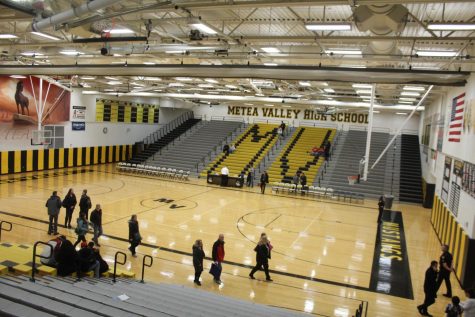 Connor Smith
9:14 p.m.-
Location: Main Office
The gym is silent, the hallways are clear and only a few tireless janitors remain. That's the end of another day at Metea Valley High School, with the next one starting in just over ten hours the following morning.
View Comments (3)