Dance team qualifies for IDTA State at IDTA invitational contest
The Mustang dance team has worked hard to get where they are today and it took long practices and rehearsals to clean up their dance and make it the best they could. However, there were struggles faced through the changes of having to follow the safety guidelines during the pandemic still occurring. 
"When we were first learning our competition piece we learned it over zoom in a matter of about six hours, and it was rough when we came back in person for the first time and started to work on it, but we worked on remembering and dancing through all the choreography," freshman Alyssa Ramirez said. "COVID-19 also affected when our competition was going to start and how long it was going to last. Usually, our competition season starts in December, but since COVID-19 affected the possibility of the competitions being in person, we had to wait for the district to approve teams to even have virtual competitions."  
With a proud and successful competition that varsity and JV qualified for IDTA State at IDTA invitational contest on February 27. There were goals that were also made before the competition. The dance team was able to put in much work through the time to prepare for their performance with many hours of practice and dedication throughout the season.  To qualify for the IDTA State on varsity, the team needed a score of 75 to qualify and they scored a 78.
"Our team had a lot of goals that we wanted to achieve for competition," Ramirez said. "We really wanted to make sure that as a team we were all together with the choreography and that our dance was cleaned well. A specific goal that we had was working on technique because our dance this year was very technical, especially our turns. We were able to meet these goals and I think we really put in the work and the effort."  
Although the competition that JV qualified for IDTA state was different this year, having to insert a video of their performance was different than they usually would have to do since the dance team normally would perform in front of a crowd.  It was a success and a great outcome since the team has made it to compete in IHSA State last Friday. 
"Our goal was to make it to state this year, and yes, We did achieve that goal. We made Metea Valley dance team history by doing so, and at our first competition. Obviously, the competitions are virtual now, so we don't have to perform in front of a crowd," sophomore Ana Kim said. "However, it is different to not be able to fully see the other routines, and I'm sure it's difficult for the judges as well. Like I said before, we qualified for state for the first time in Metea Valley dance team history. It was really exciting to hear that our hard work paid off."
About the Writer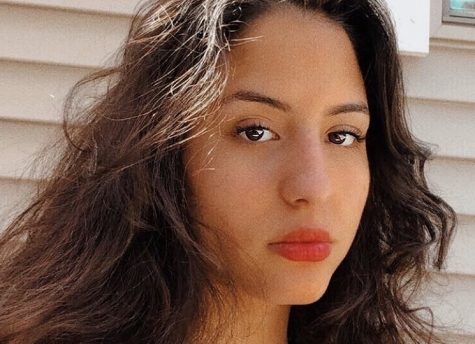 Michelle Serna
Michelle Serna is a junior and this is her first year joining The Stampede staff She enjoys writing and is kind to everyone she meets. She's a bit shy...