First Aid, but not for the bruises you can see
The first day of in-person training for Youth Mental Health First Aid classes began on Jan. 18, School Improvement Day. Introduced in 2017, this course has been brought back by District 204 after a year without it, due to in-person limitations from the pandemic. Any teacher across all grade levels beginning in pre-K are welcome to join the training. This initiative aims to equip teachers with professional training on how to immediately respond to students undergoing a mental health situation. 
Youth Mental Health First Aid training exists beyond District 204 as a nationally recognized program. Professional coaches lead the course and have gained their expertise through their knowledge and experience with student mental health and an intensive five-day training course. 
Though, it should be emphasized that the outcome of this training is on the idea of first aid, not necessarily a permanent fix. Just as one would reach for a band aid when they are cut, a teacher would use their training to provide an immediate response to a student's mental health situation. 
"It is very important for people to understand that Youth Mental Health First Aid is not therapy. It is not like the work that your social workers and psychologists do," District 204 social emotional learning and wellness coordinator Dawn Forkner said. 
Teachers interact with hundreds of students everyday and are tasked with the duty of not only teaching, but also of being there for their students beyond the classroom. The training allows teachers to become further educated in something outside of their usual subject. 
"I am somebody that went to school to be a social science teacher, I may not in my coursework, have done anything to do with mental health," Forkner said. "We want to make sure that those teachers feel comfortable having those conversations, because we know oftentimes, they are the frontlines. They are the people students see first and are generally the most successful people in the building."
Teachers that have participated in the training know that they are not the destination when it comes to helping problem solve a student's mental health, but rather a rest stop, or a place where students are able to be guided in the right direction. 
"I think the biggest thing was I felt guilty that I did not know what to say to some of my students or athletes, and I realized that my role was more to listen and not to diagnose them. Because that is not actually my training, and I am not certified to do that," math teacher Alyssa Schneider said.
Schneider, one of the participating teachers, is aware of the important role that she plays in her students' lives as being a trusted adult that her students can confide in. The training sessions offered allowed Schneider to know how to better approach students and their mental health. 
"I felt a burden that I had to know what to do and really I needed to just be there, listen to them, non judgmentally and then know where to send them if necessary," Schneider said.
Additionally, fine arts teacher Irene LaPapa was also another participant of the course. She, too, acknowledged the importance of simply being there for her students and broadening her understanding of their mental health.
"It starts there, just by being aware. Once you are aware, if there is a potential challenge, then it is: what do you do? What are the next steps, and so that is what the training provided," LaPapa said. "Our role is not to diagnose and they were pretty clear about that. It is just to assess and see if there is a possible mental health challenge."
The distinction between therapy and mental health first aid should be noted. Teachers want to be involved and be able to provide as much aid as they can, and they will. However, eventually they will point students in the direction of professional help. The Mental Health First Aid training allows teachers to be more comfortable with assessing students and being able to best help them. 
"There could be a parent, it could be a teacher, coach, or an aunt or uncle, but at the end of the training, they emphasize this. He [the coach] said that you can not underestimate the role of the family. Whether it is a parent, a teacher, whoever that is, but that is the number one protective factor. We can do that as teachers," LaPapa said.
The people in a student's life are crucial to acting as respondents to their mental health. Not everyone will become certified with a Ph.D. in the medical field to cure the ill, but the Mental Health First Aid training is not asking for anyone to become a professional, rather just to be there and prepared for students. 
The broken record of the pit that the pandemic has thrown people into continues, but the reality is true. Student mental health has always been a matter important especially to high school students, and in even more recent times, has become ever more prevalent.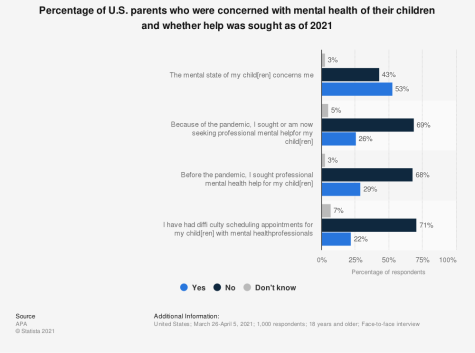 "We have to be patient and realize that everyone is going through some tough times," Schnieder said. "But I think we also need to take a step back and realize that we are going to deal with adversity every day. And we do not have to do it alone."
Even before the stressors brought upon by the pandemic, and for many years after, students, teachers, and everyone alike will always be tasked with overcoming obstacles and setbacks. Though, it is through the acceptance of difficulty and willingness to seek for and provide help, that one will be able to make it through. 
"I think we are coming off a year where we just want everything to go away and leave us alone, and that is not really how the real world works," Schnieder said. "I think that we need the strategies we need. We need relationships that we can go to, but we also have to recognize that life throws things at you every day."
The Mental Health First Aid training, though offered only to the teachers, also greatly involves a collaboration with students. For students to be willing enough to take the first step and normalize the conversation around their mental health, is a move towards District 204 being able to better support the needs of each of its individual students. 
"I am so impressed by the initiative that students are taking this school year, more so than ever to advocate for themselves and advocate for their peers and to ask these important questions and have these tough conversations. And I think that that really goes to show the quality of students we have in 204, and how much they truly care about each other," Forkner said
The movement to better support student mental health involves the participation of everyone. According to Forkner, there is a high school student-version of Mental Health First Aid training that will hopefully be up and running in the future school years. 
Every level of education matters, and to have mental health resources right within a classroom will help students be more successful at what they ultimately came to school for: to learn. Through the Mental Health First Aid training initiative, more teachers in the district will be able to cultivate an environment that is well-prepared for any problem that a student may have. For all the questions that arise, the training will allow teachers to be one step closer to having the answers.