Therapy dogs serve as stress relievers for students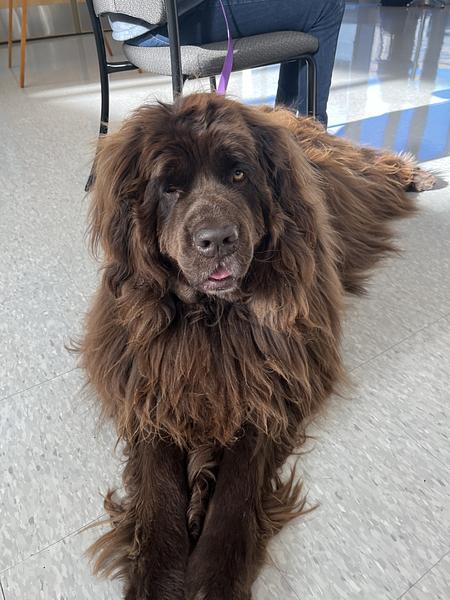 Volunteers in the Metea community bring in therapy dogs on the first Thursday of every month. This past Thursday, students were able to spend time with the therapy dogs during their lunch period. As the year progresses, Metea volunteers believe that spending time with the dogs is a great way to relieve any built-up stress students get from school.
Many dogs attended Thursday's event, one of which was a Newfoundland breed named Gully. Gully's owner, Kari Wells, spends her time volunteering at schools and hospitals since acquiring Gully's therapy dog certification. Wells believes that visiting therapy dogs have many benefits. 
"Therapy dogs are so calm and they emanate that onto students. The dogs serve as great company to the students because they make people happy, not only at schools but at the hospitals too," Wells said. "Anybody can have stress so it is great to have a therapy dog there."
After being warmly welcomed by Metea students, Wells plans to come back to Metea once a  month moving forward. 
"The students loved the dogs so much. So many kids came to visit Gully and he loved it just as much as they did," Wells said. "When I visit patients in the hospital, they tell me 'this dog makes me feel so much better, better than the [medicine the doctors] give me,' they truly do solve all your problems."
The dogs were stationed at the college and career center which allowed students to pet and play with them. Many students recall having a relaxing time with the therapy dogs. 
"I came to see the therapy dogs to relieve the stress of finals and my school work. This was my first time visiting the dogs but they made me calm and happy almost instantly. The therapy dogs should keep coming to Metea because they are so cute and I always look forward to seeing them again." sophomore Emma Kruzel said.
Another sophomore, Kyra Liceoglu, believes that therapy dogs are a great way to help with stress and anxiety.
"Spending time with the therapy dogs makes me forget about all the stressful things happening in my life such as exams and homework. They make me feel happier and I will be visiting them more often." Liceoglu said. 
The dog owners encourage students to visit the therapy dogs because the dogs spread positivity and they love teenagers' attention.