Football proves themselves in 7 on 7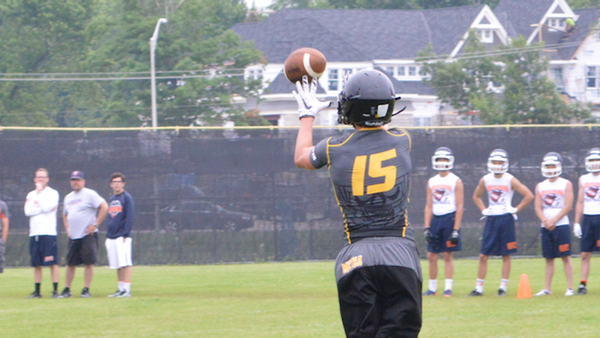 On Friday, football participated in another 7 on 7 event where they faced off against district 203 and 204 rivals in 30 minute scrimmages at Naperville Central's Memorial Stadium. The Mustangs ended with a 3-1 record with victories against Naperville North, Neuqua Valley, and Waubonsie Valley.
"I'm very happy with how we performed at the 7 on 7 on Friday. Every game our team got better, our defense started making more plays, working together, and our offense couldn't stay out of the endzone," junior slot receiver Ben Loutsis said.
Overall the Mustangs have an 11-3 record in 7 on 7 competition, with two losses to Naperville Central and one to Wheaton North, both of which they will see in the DuPage Valley Conference this upcoming season.
"I am most looking forward to surprising all teams in the DVC on what we can do as a program, showing that we belong in this conference," Loutsis added.
The conference is filled with prospective collegiate level athletes and prestigious programs, hence the six IHSA state championships in football over the last 15 years. Competing in 7 on 7, skill player scrimmages against other high school teams without pads, gives the team an outline of what competition they will be facing despite the altered rules and scoring.
"While 7 on 7 does give you some ideas about how certain positions or athletes could perform during the offseason, you win football games by blocking and tackling, and 7 on 7 events lack those two components of the game. So based simply off our 7 on 7 performances we know we can excel at certain positions, but we will need to step up and work hard to excel in other vital positions as well," senior quarterback Conner Lovely said.
Both the coaches and the players used the past couple weeks of 7 on 7 as a learning experience to grow not only on the field, but as a team.
"I think we gained a lot more confidence. We know that we belong [in the DVC] but we still need to work on a lot of things before the season comes around. I am very excited for this season because we get to compete in the best conference in the state. We will have to give it our all every week; there will be no 'off' weeks this season," senior wide receiver Jordan Cagigal said.
By Ashley Walker
Photo courtesy of Scout Recruiting