[quote]By Drew Danko
Online Editor
Photos by Drew Danko[/quote]
20 senior athletes representing 11 different varsity sports signed their national letters of intent in the library on Wednesday morning's National Signing Day. These athletes will further their athletic and academic careers at a variety of Division I, Division II, and Division III NCAA universities across the nation next fall.
Bowling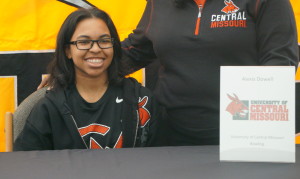 Alexis Dowell – University of Central Missouri "I'm looking forward to playing with the team. They're very close, I like how they work together, and they're top in the NCAA."
Girls' Cross Country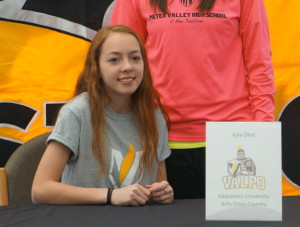 Kyla Ohst – Valparaiso University "Joining a team has given high school a structure, I have to plan out my time because running takes up so much of my time. When I go to college, I want to have that base of community that also loves running and is dedicated to balancing their time between school and sports."
Girls' Lacrosse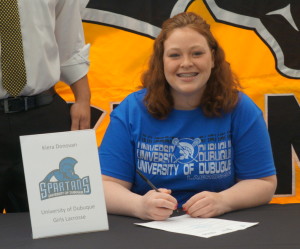 Kiera Donovan – University of Dubuque "I'm looking forward to the new experiences I'm  going to have with my team next year. They all are super nice and funny, and it's a good team."
Girls' Soccer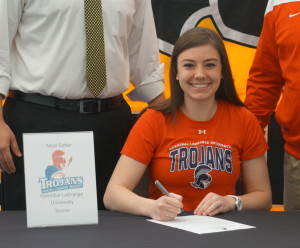 Maci Cotler – Hannibal-LaGrange University "I have been playing soccer since I was 10, and I've put so much money and time into it that there would be no point in quitting the talent I have. I want to put it to good use."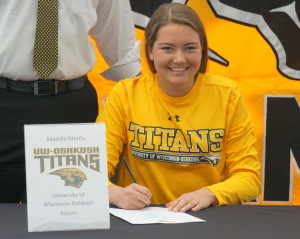 Maddie Morris – University of Wisconsin – Oshkosh "I chose to play soccer in college because soccer has been a part of my life since I was four years old. I've met amazing friends and influential coaches through playing soccer, so I couldn't let go of that part of my life quite so fast."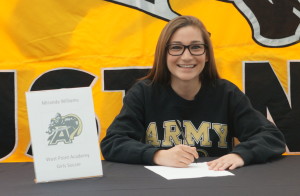 Miranda Williams – United States Military Academy at West Point "I chose Army because it's always been a goal of mine to play Division I soccer. West Point allows me to play at that level, provide me with an exceptional education, and the opportunity to give back and serve my country."
Girls' Swimming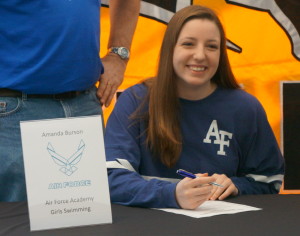 Amanda Burson – United States Air Force Academy "Signing felt incredible. I knew the school was right for me right when I walked on. Everybody in the swim program and everybody at the school in general are the nicest people I've ever met. They all have the same mindset I have about everything, and I click with them. I just feel really at home there."
Girls' Volleyball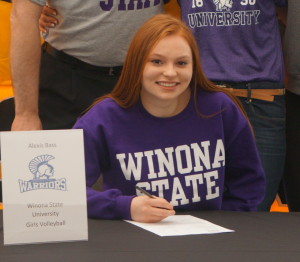 Alexis Bass – Winona State University "Everyone says you're supposed to get that feeling, and I'm so indecisive, but at every other school I visited I was constantly comparing them all to Winona. I just knew that's where I was supposed to be."
Boys' Basketball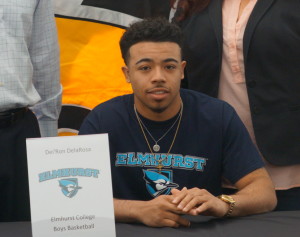 Dei'Ron DelaRosa – Elmhurst College "Basketball helps me grow as a man and helped me form responsibility. I love the family at MV that worked with me during my career."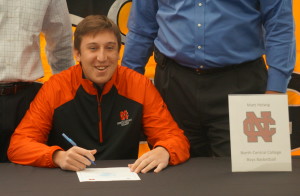 Matt Helwig – North Central College "Going to North Central has been a dream of mine since I was a little kid, and now that I've signed I get to fulfill that dream."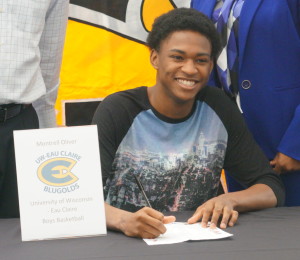 Montrell Oliver – University of Wisconsin – Eau Claire "I am looking forward to a new experience. Being able to continue basketball is great and I'm just excited to pursue something new."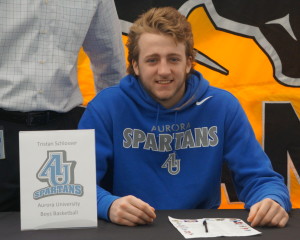 Tristan Schlosser – Aurora University "I just wasn't satisfied with my basketball career and how it ended here. I had the opportunity to play at a few schools with really good basketball programs, and I took advantage of that."
Football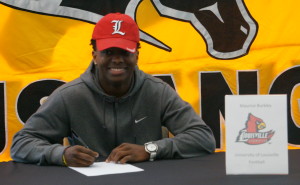 Maurice Burkley – University of Louisville "It felt like a great place to make my home and a great place to continue my football career."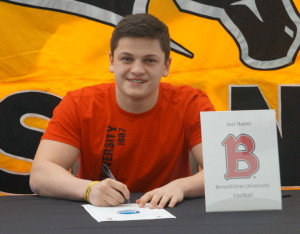 Joel Nanni – Benedictine University "[I'm playing in college] because of a passion for the sport, I could've hung up my cleats and said that I had a good high school career and left it at that. But, I wasn't content with just that. Football is what drives me to be better in every aspect of my life and I plan to continue that into college.
Boys' Soccer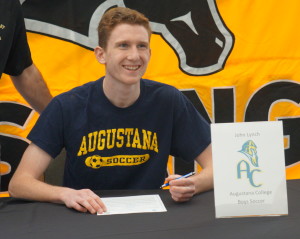 John Lynch – Augustana College "Signing was really exciting and relieving to finally commit to where I'm going next year. It was cool to see so many other people sign and be able to see what everyone else is doing"
Boys' Volleyball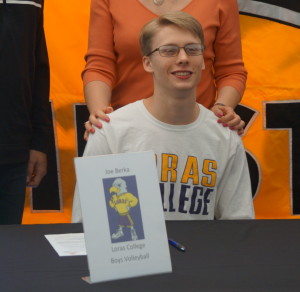 Joe Berka – Loras College "Signing felt like all of my hard work paid off, I'm just so happy to be playing at the next level"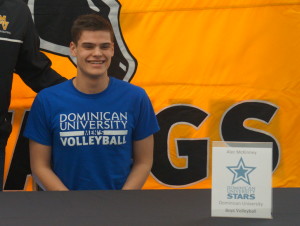 Alec McKinney – Dominican University "It's a huge relief knowing that I'm finally committed. It was great for school morale, like Mr. DeBruycker said, it's the fact you're representing Metea from now on. When you go to college, everyone will say 'Oh, he went to Metea Valley.' It's not 'Oh, I'm going to Dominican.'
Wrestling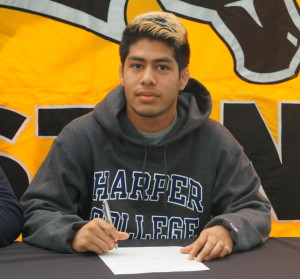 Uri Ariza – Harper College "When I went on the visit, the sports benefits were a huge plus. But, what got me really excited was the wrestling team. Everyone there clearly showed passion for being there and it really rubbed off"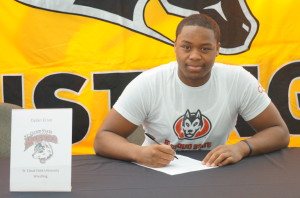 Dylan Ervin – St. Cloud State University "I like the mentality of the [St. Cloud] coaches. They want to be champions or as successful as possible, just like me. The environment is phenomenal."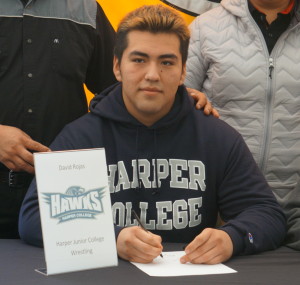 David Rojas – Harper College "I'm excited to be able to compete at the next level and be able to learn more about the sport that I love."