Humans of Metea: Lyndie Lobdell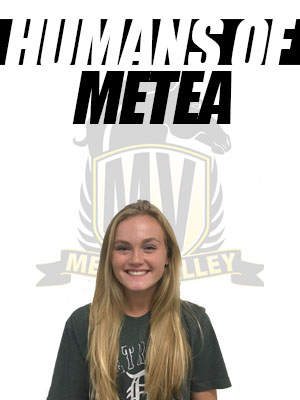 Hang on for a minute...we're trying to find some more stories you might like.
Graphic by: Zyma Lakhani
Lyndie Lobdell committed to Pennsylvania State University as a sophomore and was given a full scholarship upon her achievements in hockey. In her U-12 year she made championship and MVP in her team, which was one of the biggest tournaments of the year.
Why did you decide to commit to Penn State? Did any other schools reach out to you as well?
The recruiting process for hockey is that you go through a lot of different schools and you talk to a lot of schools and visit them. My top three choices at the moment were Ohio State, Wisconsin, and Penn State, Penn State being my first choice. The reason why I chose Penn State is because Penn State's coach is great, and he was passionate about me as a player. I was also passionate about the school and I loved the size. They pay so much attention to the hockey program and they fund it so well. Penn State's rank is amazing and it's just is a really nice area.
I heard you were recruited for the hockey team, what is your position right now in hockey?
I play in Chicago Mission as a defensemen, but I switch between forward and defensemen and I play center also. However, I play mainly as a defensemen.
How long have played hockey and would you continue to pursue as a possible career?
I've been playing since I was four so about ten or eleven years. There's not necessarily a career for women to play hockey, so I plan on having another main career. I obviously want to go through college, but there is also an olympic team and my main goal is to get there someday or to the national team, so as far as a career in hockey, that would be it.
Did it come as a surprise to you to get a scholarship to Penn State as a sophomore?
At this point I kind of expected it because I started the whole recruiting process when I was in eighth grade so I was calling, visiting, and emailing. My freshman year went on and I got a couple offers to schools I didn't really want to go to, but for hockey it's not that crazy to commit as a sophomore; the usual commitment year is sophomore and junior year. I wasn't super surprised, but it is still kind of crazy because I am a sophomore.
Have you felt any pressure previous to your acceptance in your practice or in school?
Not really in practice because all of my teammates go through it at our program and there is a lot of D1 commits; for example, last year there were a couple of girls on the U-Nineteen team that didn't get D1 commits. However, in school I always feel pressured because I want to get good grades and keep up with everything, but it's kind of hard because I miss a lot of school due to hockey. Although, overall, I would say the pressure is somewhat low.
Have you faced any hurdles when advancing in your hockey practice?
The main struggle is just always working my butt off like it never stop. In every practice and in every game you have to give it your all, because you never know who is watching, for example, in our first practice last year there were Ohio State University coaches and they were sitting in the stands and watching our practice. Sometimes it's pressuring, but you always have to focus on what you need to do as a player and then they'll notice that.
What inspired you to play hockey?
My main inspiration was probably my dad because he played hockey all his life when he was the same age as me and he grew up in a huge hockey community in Detroit and he played in college as the captain of his team. I basically just got everything from him; he helped me throughout everything and it was really good to have him there.
About the Writer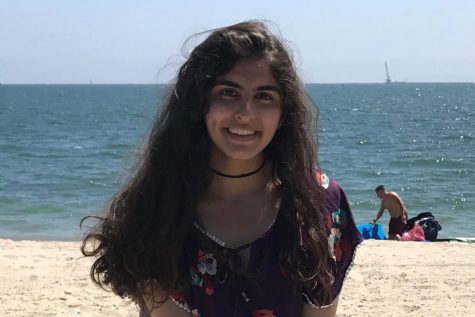 Zyma Lakhani, Profiles Editor and News Reporter
Zyma is a senior at Metea Valley High School and is a creative, thoughtful writer who enjoys a good nap or two here and there. She is a profiles editor...