Kate Romanco's courage is shown through overcoming her adversities in horseback riding
Hang on for a minute...we're trying to find some more stories you might like.
Senior Kate Romanco's passion and love for horsebacking riding is always growing even though she suffers from an illness and a horseback riding incident.  Her bravery is seen as she conquers her deepest anxiety and makes an effort to ride consistently, always improving and getting better as a rider.
What sparked your passion in horseback riding?
In the beginning of 5th grade, I was in girl scouts and we took a trip to White Pines Ranch in Oregon, Illinois and did horseback riding with a regular trail ride, and I instantly fell in love. My mom was unsure on letting me ride from before, but once she saw how much I loved riding, she was willing to let me get the lessons for it.
Would you like to continue horseback riding and make a career out of it?
I always think that, but I love the medical field and physical therapy, so I always think that I might work at a horse rehabilitation center for horses that suffer from injuries and getting them back and working because sometimes horses are given a death sentence if they are injured, and I would work to prevent that. If not, I would keep horseback riding as a side thing and still plan on doing it for the rest of my life.
Have you won any awards, trophies, and medals in horseback riding?
A little bit. I haven't had much opportunities to compete when I was younger, and then I stopped horseback riding and took a year off for my health and the other year I suffered a horseback riding incident so I fell back in my riding . Once in awhile, I might be in a show just for everybody to get a chance to compete, so I won a couple of first place ribbons for that but nothing right now. However, I do plan on competing when I ride more consistently and get up the levels.
Do you ride through a program or ranch that allows you to ride their horses?
My trainer owns multiple horses. A lot of them can do all types of riders some of them, however, some may need more advanced riders, but I can ride most of them through a greenline equestrian I go to in Batavia.
Have you experienced any adversity in horseback riding that you overcame?
During my sophomore year of high school, I started getting back pain which spread to full wide spread body pain, fatigue, head pain, and actually I was officially diagnosed this month with postural orthostatic tachycardia syndrome, which is a dysfunction of your autonomic nervous system. It affects your digestion, heart rate, blood pressure, eyes, and basically any other autonomic function your body does. And now that we found out what's wrong with me through asking questions such as 'why do I have this body pain?' and 'why am I so tired?', it definitely has made me overcome horseback riding when I started back. I knew with this I could still be a horseback rider; It's just that struggle to overcome it and be brave enough to ride again. Also in February, I suffered from a freak accident: the horse freaked and I fell off, slamming my head into the arena wall. From this, I got a brain bleed. It was able to resolve on it's own, but I took three months off of horsebacking riding to let my body heal, so now I deal with a concussion syndrome. However, I never let this push me away from horseback riding, I always want to get back on the horse. It's just that feeling when i'm not riding I am like 'oh my god'; it's like withdrawal. It's like my body needs that and it's something that makes me happy. It's so therapeutic even though it's like training for your regular sport. Its frustrating, but my horse and I are a team. Even though I ride multiple horses, we work together and stay connected by trusting each other.
How long have you been training and how much work do you put into it?
I started horseback riding when I was 10 years old, so seven years but I did take a year and a half off of riding so I definitely had a major setback when I first started riding again. It's tiring, I go once a week or come to the barn and hour before and stay a half hour after to get everything ready. It takes a lot of upkeep. Moreover when riding, my ground work was good but when I started jumping, I lost a lot of capabilities and my trainer said I wasn't doing very well at it, but since I went back in April May I have been getting so much better. I know I'm never going to be the same rider before any of my health problems started, but I know I am still able to improve and am still able to get better. Usually during my lessons, I have to take a lot of breaks because my heart rate changes a lot so I have to stay hydrated. It can get tiring and intensive and sometimes I get sore because it works a lot of your core muscles. Although,  you have to have that strength to keep yourself on the horse because the horse may refuse to jump. In some of my cases, I would fall off sometimes, but I always get back up and get back on because that's what you want to do. You have to show the horse 'no we are not done, we are still riding, and you didn't win'.  
Were you going to quit horseback riding due to this accident or did you always plan to go back into it?
With my health issues I wasn't sure if I would be ever be able to go horseback riding again. I didn't know how I was going to deal with this, but the doctors want people with postural orthostatic tachycardia syndrome to be active. The more activity you get, you release more endorphins and the physical activity is good for your body. That's what I needed and liked doing , so it's always been that therapeutic part of it. Even though it was something that I knew I needed to do, I sometimes worried if this was going to make me any worse, but I realized going back into horseback riding is the best thing I could've done for myself.
About the Writer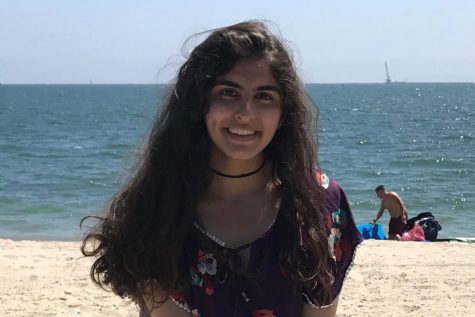 Zyma Lakhani, Profiles Editor and News Reporter
Zyma is a senior at Metea Valley High School and is a creative, thoughtful writer who enjoys a good nap or two here and there. She is a profiles editor...