Author Ashley Poston comes to Metea in order to discuss the importance of creative writing
Ashley Poston, an author, graphic designer, and self-admitted fan fiction writer took time out of her day to talk to English students at Metea about her life, her novels, the basics of creative writing and tips on how to grow as a writer. She is responsible for the novels 'Geekerella', 'The Princess and the Fangirl', 'Heart of Iron',  and her upcoming book 'Soul of Stars'. Ashley also held a creative writing workshop for eighth-period students, where the children get to share their own stories and creative pursuits. She truly inspired the young classmates with her witty charm and passion for writing, and we are honored to have her as a part of Metea history.
How long have you been writing for and what inspired you?
I have been writing since sixth grade, so close to fifteen years. Fan fiction got me into writing. I started writing fan fiction first. I also had a really bad speech impediment when I was younger, so I could not say my R's and I stuttered a lot. It kept me from communicating with my peers, so I found out that if I wrote I could communicate everything I wanted without talking to anyone.
What is your writing process like?
I usually have an idea and from that idea, I write an ending first because I am that weirdo that reads the last page first. So I write the ending first, and then I go back to the beginning and then I write everything that I know has to happen.
Could you describe your books?
I wrote 'Geekerella'. It is a Cinderella retelling set in a Sci-Fi convention. I also wrote a companion novel, 'The Princess and the Fangirl', which is a Prince and the Pauper retelling, but genderbent.   I also wrote 'Heart of Iron' and 'Soul of Stars', which is a duology that is basically Anastasia in space. '
Have you written anything besides novels?
I have done playwriting, scriptwriting and I have also done a lot of fan fiction. I really like my Yuri on Ice fan fic. Also, I have written some Harry Potter and some Marvel fanfictions.
Why do you think creative writing is important for a younger generation? And is there any advice you have for people want to become writers?
Because we always need stories and we need new stories and we need new voices. Reading makes you empathetic and written keeps you passionate. Never give up. Finish a book. Finishing a book is the hardest thing to do. Everything else will become so much easier once you learn how to finish the book.
About the Contributor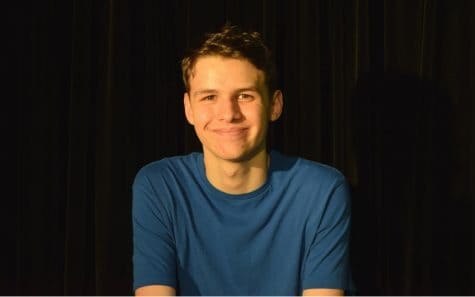 Ben Weiss, Perspectives Editor
Ben Weiss is a senior perspectives editor and writer. It will be his second and last year on The Stampede. Other activities he's involved in include...