Humans of Metea: Carter Wijangco
Almost everyone in high school finds something they are passionate about. Carter Wijangco, a sophomore at Metea, found his passion for fishing. He's participated in numerous fishing competitions over the years. He even won the Off The Hook Junior Bassmaster's in the summer of 2018. Here's what he has to say about his journey in fishing. 
How did you get into fishing?
"I started with my grandpa; he just took me out to some farm ponds. One day we just walked up to someone's house and asked him if we could fish there. And that's got me started fishing for small stuff. One day I visited a Bass Pro Shop in Bolingbrook, I walked in there one day and met a guy who got me started in bass fishing. He's the one who got me into tournaments and stuff. I joined a couple of clubs and got to know people in the industry. Almost two years ago, I won the junior national championship, and that opened up a lot of opportunities for me. I was able to go to ICAST this past summer and I got an internship there. I got to speak to 300 high school kids and got to do a seminar at the Schaumburg Fishing Show. I'm going to be doing another one this year."
What do you think is the importance of starting a fishing club at Metea?
"I think the importance of starting a club at Metea is that a lot of kids don't know that bass fishing is actually a thing. A lot of kids think it's a hobby, but there are people out there that are making a living by fishing for bass. I think it's very important for kids to have an outlet. A lot of kids don't play sports or aren't in clubs or anything like that. You don't have to be the most athletic kid to be able to go out to a fishing tournament."
Do you plan on pursuing fishing as a career?
"I hope to. I'm going to keep fishing local tournaments for now and saving money. I hope to go to college at McKendry and fish there. Fishing is a really expensive sport so I'm trying to figure out a way to have a second job. Obviously, you can't just fish tournaments and make a living off of that. You have to have something else to be able to afford all the entry fees. It's a lot of hard work, but I think I can make it in the end, and it'll be worth it."
How has being a Boy Scout helped you along the way?
"Being a Boy Scout has actually been pretty helpful in my fishing career. It has taught me a lot about communication. I'm working on my Eagle Project right now and getting it ready over the summer. I also have to do proposal stuff and running for positions. It does help a little with public speaking. I definitely think everyone should give Boy Scouts a shot because it's good for college resumes and helps you a lot with life skills."
What's your favorite part about fishing?
"I'm not really sure. I would say feeling the fish bite the end of your line. It sounds really weird, but that's what every fisherman looks for. I come out here and I fish these ponds every day after school, just catching fish and having fun with my friends. It's a really relaxing sport and I can go to fishing tournaments over the weekends and have that competitive edge."
What was it like writing an article for Midwest Outdoors?
"I actually got to work at Midwest Outdoors over the summer for an internship. That was a really cool experience. The article was submitted for a contest and published in their magazine. I wrote about why we should have a fishing team at Metea. You can read it online. I wrote articles for them every month for them, but that was one of my better ones. It helped me with my writing skills."
What activities are you involved in besides fishing?
"Obviously you can't fish all year round in Illinois, so I'm also in wrestling and Boy Scouts. Wrestling has definitely helped me a lot with my fishing because it helps with my work ethic. It's a really tough sport that I enjoy a lot. When there's no ice out, I focus on fishing a lot, but you have to have other things going on in your life."
What is your biggest pet peeve about fishing?
"It's definitely the money aspect. Everything in fishing costs you a lot of money, especially as a high schooler. Thankfully there is a lot of great programs for kids in high school and college to help make it more affordable."
What advice for those who want to get into fishing?
"For bass fishing, try to fish with as many people as you can. Try to meet a lot of new people and get experience with your boat. Time on the water can beat pretty much anything. Get a lot of experience under your belt. You don't have to buy the best rods and reels; just enough to get you started."
You can read Carter's article about starting a high school fishing team here
About the Contributor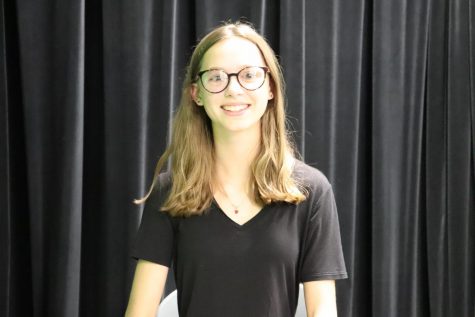 Amber Corkey, Spotlight Reporter
Amber Corkey is a junior enjoying her first year on journalism staff. A self-proclaimed walking oxymoron, she loves marching band and being generally clumsy....