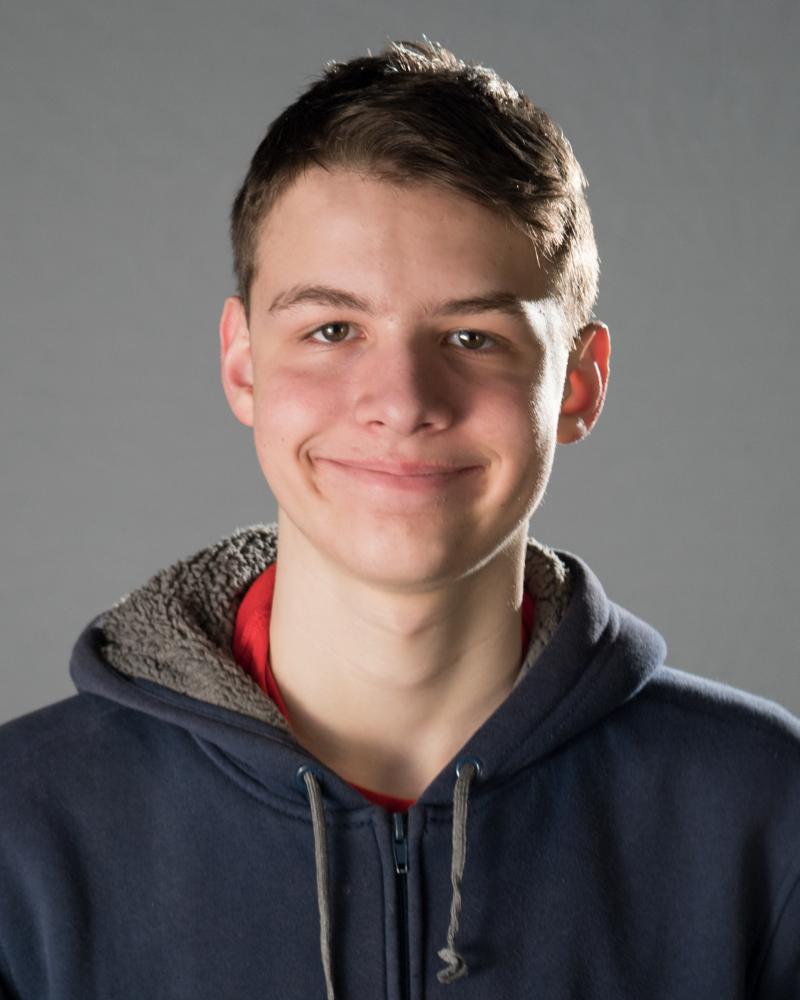 Ben Weiss, born Benjamin Ryan Weiss ,is an aspiring actor and filmmaker who is currently a producer for The Mane in Broadcast and Journalism. Even before Ben understood how filmmaking worked, he was always fascinated with the technicals of movies, often watching the behind the scenes documentaries more than the actual movie. When he was eight years old, Ben was inspired by the Internet personalities that consistently produced film quality content. Seeing potential in the YouTube landscape, he decided to make take on filmmaking as a full time career, starting out by making poor quality YouTube videos for quite some time.
In his sophomore year on August 2016, Ben took the class Media and Communications 1, and learned the deeper technical skill required for filmmaking. As the class continued, his camera skill became one of his strongest suits, showcasing a large understanding of depth and symmetry. Even before Ben started taking Broadcast, his cinematography was featured on the April 2017 Mane and a separate Speech Team video.
Outside of The Mane, he also works as a writer for Metea Media under the Newspaper Journalism class and has involvement in Metea's theatre department as a techie and occasionally an actor. He has a heavy interest in surrealist and darkly comedic art and film and has a notable musical theatre addiction. Ben even enjoys the occasional dank meme every once in awhile.
Ben Weiss, Mane Producer
May 16, 2019

The origin and meaning of the Alma Mater

(Story/Media)

May 07, 2019

Black and Gold honors Metea seniors

(Story/Media)

May 01, 2019

The death penalty is an outdated punishment that should be abolished

(Story)

Apr 23, 2019

Humans of Metea: Ben Noe

(Story/Media)

Apr 18, 2019

Humans of Metea: Will McGraff

(Story/Media)

Apr 11, 2019

Humans of Metea: Zachary Cook

(Story)

Apr 09, 2019

Author Ashley Poston comes to Metea in order to discuss the importance of creative writing

(Story/Media)

Apr 04, 2019

Humans of Metea: Ursula "Darkstripe" Sturgeon

(Story/Media)

Mar 21, 2019

The college admissions scandal denies students who put effort into their academics

(Story/Media)

Mar 07, 2019

Teachers celebrate Institute Day with Dupage County

(Story)

Mar 04, 2019

Our environment makes us more polarized

(Story)

Feb 11, 2019

Super Bowl VIII: One of the most boring and controversial games in a while

(Story)

Feb 06, 2019

Rent: Live is a prime example of how censorship ruins the integrity of art

(Story/Media)

Jan 29, 2019

Family Guy will no longer be making jokes around the LGBT community

(Story)

Jan 25, 2019

AirPods: The Apple product that miraculously took over the world

(Story/Media)

Dec 17, 2018

Humans of Metea: Preetish Chakraborty

(Story)

Dec 06, 2018

The Lightning Thief: The Percy Jackson Musical starts its national tour in Chicago

(Story/Media)

Nov 28, 2018

The Mayor of Aurora visits Metea students to discuss his occupation

(Story/Media)

Nov 15, 2018

Ben's Guide to Musical Theater: Songs for a New World

(Story)

Nov 14, 2018

The death of Marvel legend Stan Lee leaves a massive hole in the comic book industry

(Story/Media)

Oct 30, 2018

The Turning Pointe Autism Foundation organizes their third annual Pumpkin Race

(Story/Media)

Oct 25, 2018

Ben's Guide to Musical Theater: Bare A Pop Opera

(Story)

Oct 15, 2018

Emmy winning journalist Enrique Rodriguez discusses the importance of journalism for Latino Heritage Month.

(Story/Media)

Sep 20, 2018

Hot Takes: The Use of E-Cigarettes in Schools

(Story/Media)

Sep 17, 2018

Anna Kendrick shines in stylish but overcomplicated thriller

(Media)

Sep 10, 2018

Ben's Guide to Musical Theater: Come From Away

(Story)

Aug 28, 2018

First days at Metea through the eyes of a transfer student

(Media)

Aug 22, 2018

Senior tips for incoming freshman

(Story/Media)

May 25, 2018

The history of the podcast

(Story)

May 15, 2018

Kane County Cougars showcase excellence in sports and entertainment

(Story)

May 08, 2018

Mr. Oldham shares his musical talent with students

(Story)

Apr 29, 2018

Patronizing the Mentally Disabled Should Not Be Acceptable in Our Society

(Story)

Apr 17, 2018

An inside look at the Metea L.I.F.E. event

(Story)

Apr 12, 2018

The rise of "live" televised musicals and how it affects the art of theatre

(Story/Media)

Apr 03, 2018

Fortnite: The latest gaming phenomenon with no signs of diminishing

(Story)

Feb 21, 2018

The Guide Right Program provides a clearer and stable future for students

(Story)

Feb 07, 2018
Feb 05, 2018

MSA spreads the meaning of a cultural item on World Hijab Day

(Story/Media)

Jan 17, 2018

The Statute of Limitations defeats the purpose of our justice system

(Story)

Jan 11, 2018

The Last Jedi represents everything wrong with modern cinema

(Story)

Dec 15, 2017

No America, we're not all created equal

(Story)

Nov 17, 2017

Nintendo Switch: the latest trend in school distraction

(Story)

Nov 07, 2017

Afghanistan Veteran talks about his service to Metea English students

(Story/Media)

Nov 02, 2017

2nd Annual Pumpkin Race

(Media)

Nov 02, 2017

Extracurricular conflicts stem from a lack of communication

(Story)

Oct 31, 2017

Special Olympics Unified Soccer heads to upcoming State tournament

(Media)

Oct 26, 2017

Netflix Original "American Vandal"expertly and crudely satirizes the crime documentary

(Story)

Oct 24, 2017

BYOU Club offers a safe and helpful environment for the women at Metea

(Story/Media)

Oct 18, 2017

Harvey Weinstein's sexual assault accusations allows for silence to be broken

(Story)

Oct 04, 2017

IPhone 8 and X: is the upgrade truly worth it?

(Story)

Oct 02, 2017

Web Edit: Homecoming Pep Assembly

(Media)

Sep 26, 2017

SAT's: An academic hindrance to the developing youth

(Story)

Sep 20, 2017

Special Olympics gears up for their soccer season

(Media)

Sep 12, 2017

Students bring the community together for a permanent memorial on 9/11

(Story)

Aug 24, 2017

Readiness Days jump start the new year

(Media)